Foster Supply
---
Your West Virginia Source for Redi-Rock Retaining Walls
Looking for a retaining wall in the West Virginia area? We've got you covered! Foster Supply has been providing Redi-Rock products to the West Virginia area since 2006!
Get Pricing
About Foster Supply
---
Foster Supply was established in 1981. It continues to be your one stop shop for site solutions as it has been for more than 30 years. We provide prompt service and competitive pricing to all of West Virginia, most of Kentucky, and parts of Pennsylvania, Ohio, and Virginia. Products are delivered in a timely manner utilizing Foster's fleet of tractor trailers and flat bed trucks.
Foster Supply stands ready to provide you with innovative solutions to your project needs. Redi-Rock walls are not all we do, but it's what we do best! Foster Supply has been producing the Redi-Rock large block retaining wall system since 2004. Our company and its customers are responsible for successful installation of more than 120,000 square feet of Redi-Rock Wall systems annually.
Redi-Rock Retaining Walls from Foster Supply Available in:
Charleston, West Virginia
Parkersburg, West Virginia
Huntington, West Virginia
Our West Virginia Location:
Phone: (304) 755-8241
Address: 9374 Teays Valley Rd. Scott Depot, WV 25560
Local Walls in the Charleston and Parkersburg Area
---
Cobblestone Retaining Wall Revamps Fairmont State Football Stadium
The Fairmont State Football Stadium was in desperate need for a facelift, and the Redi-Rock retaining wall with a Cobblestone Texture from Foster Supply go the job done! Not only does the stadium looks better than ever but the durable blocks will keep this Northern West Virginia football stadium going for a long time!
Morehead, Kentucky Storm Channel Stops Erosion
Once an unsightly part of campus, this 9 foot (2.7 meter) tall storm channel ledgestone textured retaining wall at Morehead State University now keeps storm water from damaging campus by preventing erosion, plus it looks great too! Check out more on this case study!
Eastern Kentucky Roadway Retaining Wall Helps With Traffic Congestion
Residents of this Eastern Kentucky town had difficulties driving down this once congested roadway but the Redi-Rock Ledgestone texture gravity walls from Foster Supply in West Virginia proved to be the perfect solution to their problems! It helped to give a better layout without taking away from the beautiful Kentucky scenery!
Redi-Rock Textures Available in the Charleston and Parkersburg Area
---
Ledgestone Texture
Ledgestone blocks give projects a random, stacked stone look. Because they're made using architectural-grade precast concrete, the level of detail in the texture is outstanding. Up to 115 square feet (10.5 square meters) of non-repeating texture is available.
Cobblestone Texture
Cobblestone blocks have a great stacked stone aesthetic. Each one-ton block features the appearance of six smaller blocks, making it a great look for projects that need a smaller-scale look. Up to 23 square feet (2 square meters) of non-repeating texture is available.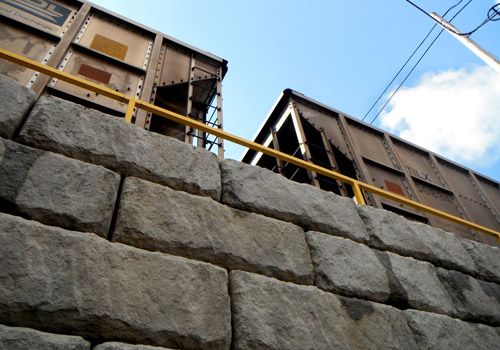 Limestone Texture
Limestone blocks have a natural split limestone texture that beautifully mimics real quarried stone. These large-scale block faces are perfect for commercial and residential projects or anything in between. Up to 23 square feet (2 square meters) of non-repeating texture is available.