9 Inch Setback Retaining Walls for Road Construction
---
Road commission chooses Redi-Rock to build tall gravity wall minimizing right of way requirements
THE CHALLENGE
The right-of-way in Michigan allows the road commission 33 feet (10.1 meters) from the center line to private property on either side.
While this is plenty of room in most cases, in hilly terrains retaining walls are needed. In the Burt Lake Road case, the project needed to widen the roadway and reduce the grade of a very steep slope while staying within the right-of-way. The adjacent properties were wooded and the landowners wanted to save their trees. A retaining wall of up to 18 feet (5.5 meters) high was required to retain the slope.
9in setback (230mm) blocks allowed engineers to increase the height of this wall without requiring reinforcement.
THE SOLUTION
MDC Contracting proposed using Redi-Rock, a 2,500 pound modular block with a 9 inch (230 millimeter) setback to create a gravity retaining wall with a batter angle at 2V:1H requiring no geogrid. The wall needed to be buried up to 6 feet (1.8 meters) at the tallest part to provide global stability and base sliding resistance; the tallest exposed section of wall is 18 feet (5.5 meters) high. Redi-Rock's large unit size and weight combined with its interface shear capacity made the construction of the Burt Lake Road wall a viable solution.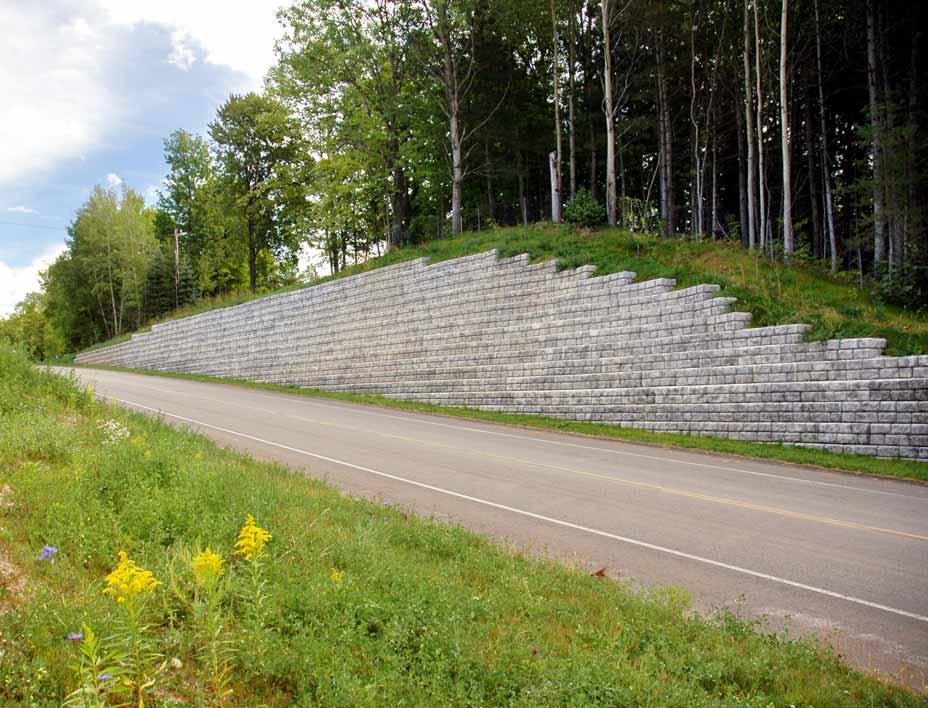 Building a gravity wall allowed the County to save trees and minimize right of way requirements.
PROJECT DETAILS
Project: Mullet-Burt Lake Rd. #4 Engineer: Northwest Design Group Manufacturer: MDC Contracting, LLC Installer: MDC Contracting Location: Cheboygan, Michigan Year Built: 2004
PRODUCTS FEATURED IN THIS CASE STUDY
---
Gravity Retaining Wall Blocks - Massive, one-ton Redi-Rock gravity blocks rely on the sheer mass of each block to hold back the earth.
Cobblestone Texture Blocks - Redi-Rock Cobblestone blocks feature a great stacked stone aesthetic with the appearance of six smaller blocks.