US Army Training Facility Construction
---
Fort Drum uses Redi-Rock walls to create realistic training scenarios for troops
THE CHALLENGE
Preparing soldiers for battle is a complicated task. Soldiers must be prepared not only to meet the physical demands of war, but they must also learn to interact with other cultures effectively as well. To meet this need, the Cultural Resources Program at Fort Drum in New York has developed realistic training facilities that allow soldiers to prepare for the environments and situations they are likely to encounter in Iraq and Afghanistan.
Fort Drum, located in upstate New York, mobilizes and trains almost 80,000 troops annually on its 107,265 acres (43408 hectares). The base is home to the 10th Mountain Division and has been used as a military training site since 1908.
Thus far, the Cultural Resources Program at Fort Drum has constructed two mock cemeteries that resemble typical cemeteries found in the Middle East. A mock archeological ruins site is also located near the cemeteries at Fort Drum, creating a training area known as Urban Sprawl. "We need to teach deploying troops about the cultural landscape to prevent damage because people don't always recognize archeological deposits or sacred places and know how to treat them with respect," said Dr. Laurie Rush, Cultural Resources Manager at Fort Drum.
The most recent addition to the Urban Sprawl training area at Fort Drum has been two mosques, complete with courtyard walls. "What we're trying to do is make our training more realistic for soldiers," Rush said. "Our hope is that they'll be looking at the landscape in Iraq and Afghanistan with more experienced eyes."
This Redi-Rock freestanding wall at Fort Drum was built for combat training purposes.
As a professional social scientist, Rush offers her expertise to help provide realistic training environments. From studying the architecture and culture of the Middle East, Rush came to suggest including the courtyard walls around the mosques. She explained that it is typical for residential and religious structures in the Middle East to have a courtyard walls.
The cultural significance of courtyard walls in Middle Eastern culture, Rush said, hinges on the fact that private space in the Arabic home or mosque begins at the courtyard walls. Therefore, knowing how to properly enter a courtyard, whether at a home or a mosque, is important to the soldier's safety.
Rush said that the building materials of courtyard walls vary from place to place, depending on what is available. Mud brick walls are common in Iraq, and stone walls are common in Afghanistan. She said the thickness and height of the walls vary also.
THE SOLUTION
"The challenge in developing a courtyard wall on base was coming up with a situation that not only looked realistic but was durable as well. We could have done a plywood wall that looked fairly realistic, but when soldiers are training, they have to actually practice breaching walls; the walls needed to be durable and that's where Redi-Rock came in. It made the project easy to install and cost effective, and definitely durable," Rush said.
A Tactical Training Base at Ft. Chaffee in Arkansas had used Redi-Rock precast concrete freestanding walls to create a perimeter for the T.T.B. training site on base in 2008 and the base has since used the product in several other applications. Local manufacturer Sunnycrest Precast of Auburn, New York approached Fort Drum with the idea of using freestanding walls in its training facilities. Mike Earl, who was Range Operations Officer at Fort Drum when this project was in the planning stages, saw potential for using the product at Fort Drum.
"I liked the way that the blocks just stack and that they're reconfigurable," Earl said. "The blocks are heavy enough that they won't collapse. They met the mission requirement."
The ground at Ft. Drum is very rocky, so installing fences and drilling down would have been very difficult, Earl explained. A benefit of using freestanding walls is that the installation did not require extensive excavation.
Redi-Rock was chosen because it is durable and can be reconfigured as needed to accommodate the training needs at Fort Drum.
Redi-Rock freestanding walls are built using massive 1,200 pound (544 kilogram) precast concrete blocks that interlock, allowing them to be installed quickly using a piece of heavy equipment and a small crew. The walls can be installed with 90 degree inside and outside corners and curves using a single block type, allowing flexibility in design from project to project.
Approximately 4,000 square feet (371.6 square meters) of freestanding walls were installed in about 3.5 weeks to complete the first courtyard wall project by fall of 2008.
Ian Warden, Land Rehabilitation and Maintenance Coordinator at Fort Drum, said that the installation of the project progressed smoothly. The base's installation crew laid a several feet of crushed stone then compacted it and graded it to create a leveling pad for the walls.
"To tell you the truth, it was very simple. It went together great; it was very easy to see which blocks were corners, end blocks, middle blocks so it was easy to put together," Warden said.
The design of the walls called for the base course of blocks to be set at grade. In total, five courses of blocks were installed, which made a 7.5 foot (2.3 meter) tall wall. The crew used a loader to offload the trailer on which the blocks arrived, then used an excavator to set the blocks in place on the leveling pad. The courtyard walls utilized Cobblestone texture freestanding blocks.
"We liked the application so well that we have since ordered more blocks," Range Operations Safety Officer Jim Moore said. "We have two mosques that have courtyard walls made out of Redi-Rock and we're doing another installation currently."
The inside perimeter of each mosque area is approximately 4,300 square feet (399 square meters).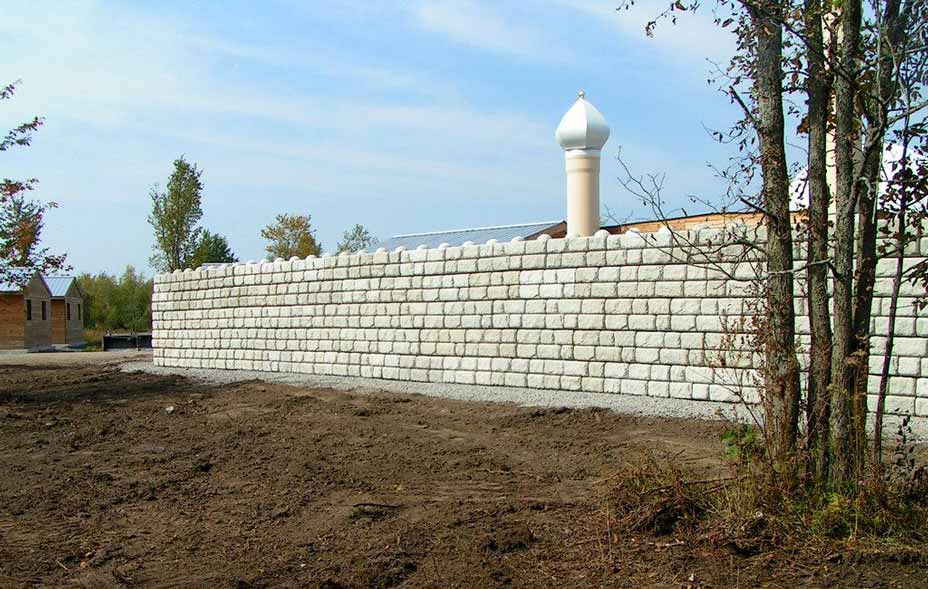 The wall was built using Cobblestone textured Redi-Rock freestanding blocks and was installed in just 3.5 weeks.
THE OUTCOME
"Our different brigade combat teams have definitely been using the area," Rush said.
The whole area has been the setting for the pre-deployment field training for combat teams. Here, soldiers practice different scenarios that they are likely to encounter while they are deployed. Adding the mosque and courtyard was the next step in creating a more realistic training site for troops.
"Soldiers can't just barge into a mosque; it would be like Iraqis coming here and breaking down the front doors of a church. It would just infuriate the people," she said.
Entering mosques is complex; there are cultural rules, such as taking off one's shoes upon entering. By giving soldiers a physical setting similar to what they will experience in Iraq and Afghanistan, Ft. Drum personnel do not have to figure it out when they are deployed because they have already been trained, Rush explained.
"In Iraq and Afghanistan, there is often a necessity to go inside the courtyard walls, and often going through the gate isn't an option. Here, the walls place an obstacle so soldiers will have to think through how they'll get inside. They may form a human ladder, or they may put a ladder on top of it if there's a ladder available," Moore said.
The U.S. Army Environmental Command website states that the Cultural Resources Program at Fort Drum is "working to share its best practices throughout the Army and Department of Defense, assisting projects at other installations. It has demonstrated that the cultural resource methods used at Fort Drum can be implemented at different installations in different environments with equally successful results."
Both freestanding wall projects at Ft. Chaffee and at Ft. Drum have proven successful in providing solutions for training facilities and have been expanded. On both bases, building officials have seen the potential of using Redi-Rock freestanding blocks to create training facilities for soldiers.
The success of the projects is largely tied to the fact that the freestanding blocks are simple to install, durable and can be reconfigured to meet the training needs of bases for years to come.
"If the focus changes to another part of the world and the need to train in a mosque no longer exists, there are definitely other applications we can use these blocks for," Moore said.
PROJECT DETAILS
Project: Fort Drum Training Facility #79 Owner: Fort Drum Army Base, New York Manufacturer: Sunnycrest Precast Engineer: Fort Drum Location: Fort Drum, New York Year Built: 2008
PRODUCTS FEATURED IN THIS CASE STUDY
---
Freestanding Blocks - Redi-Rock freestanding blocks are textured on both sides, giving above-grade walls an unbeatable, finished look for any project you design.
Cobblestone Texture Blocks - Redi-Rock Cobblestone blocks feature a great stacked stone aesthetic with the appearance of six smaller blocks.