University of Idaho Chooses Redi-Rock Walls to Create Access To Stadium
---
Design coordinates with hardscapes throughout campus
THE CHALLENGE
When the University of Idaho needed to create access to the lower elevation of the Kibbie Dome stadium, retaining walls nearly 20 feet tall were required.
Local engineering firm Hodge and Associates was tasked with designing a solution for the project. After debating several options, the firm specified gabion baskets.
A student strolls alongside this beautiful Redi-Rock Cobblestone retaining wall on the University of Idaho campus.
THE SOLUTION
The contractor hired for the project was familiar with Redi-Rock and suggested it as a way to cut costs and create a simpler construction sequence than gabion baskets. The engineers agreed that Redi-Rock would be a better solution and updated the spec.
"Gabion baskets are an older technology, and the newer way (Redi-Rock) won," explained Scott Becker, engineer with Hodge and Associates.
Redi-Rock retaining walls rely on massive, one-ton blocks that stack like giant Legos to create tall gravity walls. This 18.5 foot (5.6 meter) tall gravity wall gave engineers a chance to showcase just what Redi-Rock blocks are really capable of!
"We used the planter blocks because we were trying to avoid using geogrid. Stepping the walls back gave us the ability to go higher," Becker explained. "We were trying to go high enough with a more gradual slope to discourage students from climbing on them."
Redi-Rock planter blocks allowed the wall to achieve its 18.5 foot (5.6 meter) height without the use of geogrid. By using planter blocks in several courses of the walls, engineers increased the batter angle making these tall gravity walls possible. Engineers could have designed a similar solution using Redi-Rock 9in (230mm) setback blocks.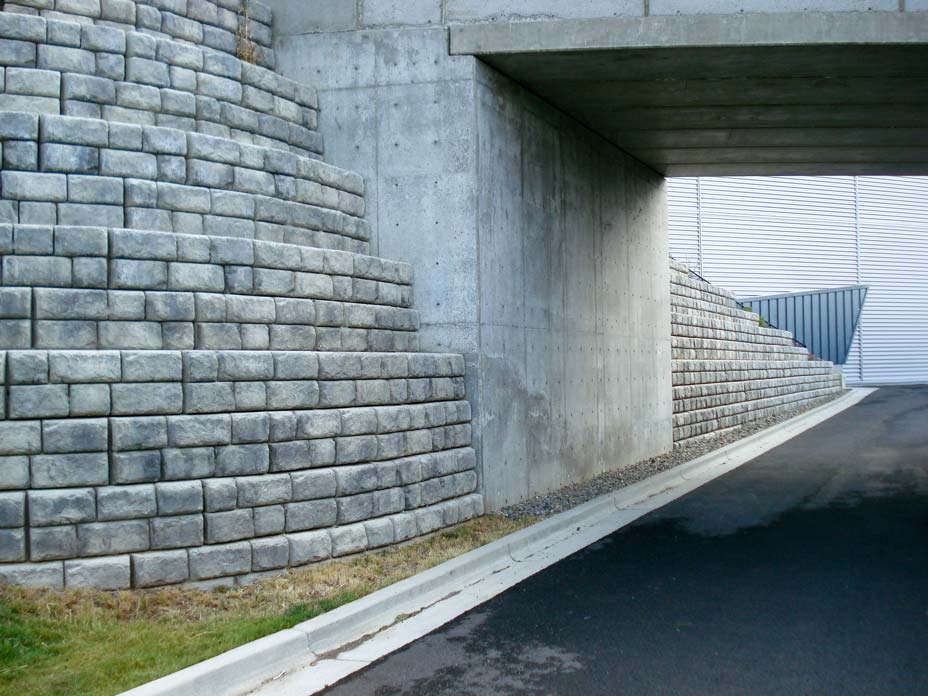 Redi-Rock planter blocks were used on this retaining wall to help achieve the 18.5 foot (5.6 meter) height without the use of geogrid.
THE OUTCOME
The tall gravity walls at the Kibbie Dome are impressive due to their height, but also because they look great! The school chose the Redi-Rock Cobblestone texture for the project, which gave the new access point an aesthetic finish.
"The university is very happy with the walls, the way they look, and how the whole project turned out," Becker said.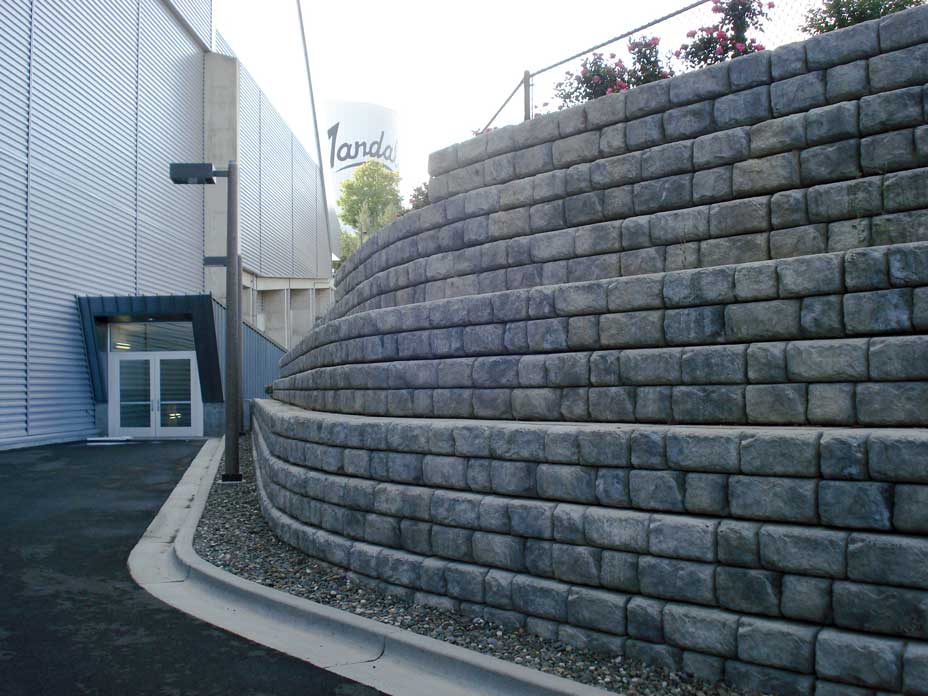 These curved Redi-Rock Cobblestone walls provide a beautiful retaining wall solution for this campus project.
PROJECT DETAILS
Project: Kibbie Dome Walls at the University of Idaho #133 Owner: University of Idaho Manufacturer: Wilbert Precast Engineer: John McKervey, P.E., JM Engineering; Scott Becker, P.E., Hodge and Associates Installer: Allbright and Sons Location: Moscow, Idaho Year Built: 2011
PRODUCTS FEATURED IN THIS CASE STUDY
---
Gravity Retaining Wall Blocks - Massive, one-ton Redi-Rock gravity blocks rely on the sheer mass of each block to hold back the earth.
Cobblestone Texture Blocks - Redi-Rock Cobblestone blocks feature a great stacked stone aesthetic with the appearance of six smaller blocks.