Fin Walls, Cobblestone Veneer Add Strength and Beauty to Unique Bridge
---
Developer chooses Redi-Rock to finish private bridge
THE CHALLENGE
A northern Washington property developer wanted to connect two man-made lakes but retain an existing roadway, making a bridge necessary. Durability and structural integrity were paramount, but the bridge's appearance needed to reflect its rustic, beautiful surroundings.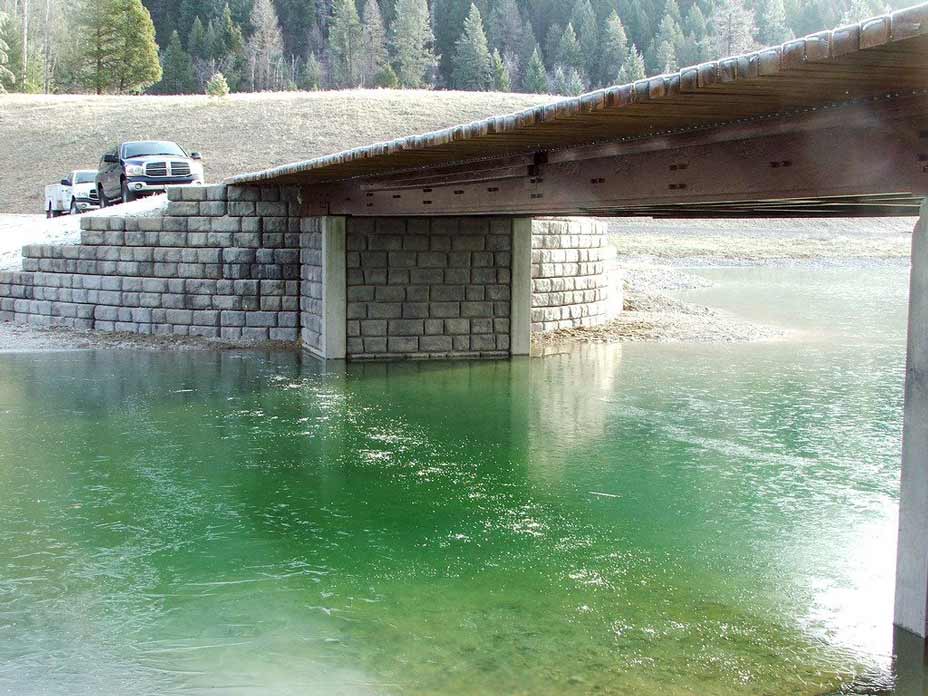 This bridge project incorporates Redi-Rock fin walls and Cobblestone veneer with a recycled flat rail car to create unique access to a development.
THE SOLUTION
The creative project combined Redi-Rock wall products and a recycled railroad car to deliver a unique and functional bridge. To achieve the desired combination of beauty and brawn, a local contractor recommended that the developer consider Redi-Rock to construct the fin walls and add an aesthetic appeal to the precast bridge abutments.
Local Redi-Rock producer Wilbert Precast of Spokane, WA, designed the project in collaboration with Coffman Engineers, also of Spokane. The developer sought to use a 55-ft (16.8-m) long steel railroad flat car weighing 13,000 lbs (5896 kg) for the bridge deck. To support the weight of the deck and projected vehicular traffic, designers specified 28,000-lb (12700-kg) 1 ft (0.3 m) thick precast concrete abutments measuring 9 ft (2.7 m) tall by 9 ft (2.7 m) wide. Redi-Rock's Cobblestone texture veneer was added to the abutments to match the Cobblestone texture Redi-Rock fin walls flanking the bridge.
THE OUTCOME
The project utilized 120 Redi-Rock 41in (1040mm) solid blocks to construct the gravity walls. Despite their massive size, Redi-Rock blocks install easily and can be placed to achieve impressive sweeping convex and concave curves. The developer was pleased with the project's outcome and particularly impressed with the natural look and engineering support offered by the Redi-Rock system.
Redi-Rock Cobblestone veneer was added to the bridge abutments to match the adjacent curved Redi-Rock fin walls.
PROJECT DETAILS
Project: Wolf Creek Ranch Bridge #78 Wall Engineer: Coffman Engineers Owner: Massnick & Co. Installer: Versatile Industries of Ione, Washington Block Manufacturer: Wilbert Precast, Inc. Location: Metaline, Washington Year Built: 2008
PRODUCTS FEATURED IN THIS CASE STUDY
---
Gravity Retaining Wall Blocks - Massive, one-ton Redi-Rock gravity blocks rely on the sheer mass of each block to hold back the earth.
Cobblestone Texture Blocks - Redi-Rock Cobblestone blocks feature a great stacked stone aesthetic with the appearance of six smaller blocks.