How to Design a Private Concrete and Wood Bridge
---
Developer turns to Redi-Rock to create aesthetic bridge
THE CHALLENGE
This creative project integrated Redi-Rock wall products and a recycled railroad car to create a unique and attractive bridge at a development in northern Washington.
The owner of the property wanted to connect two of the man-made lakes but retain the current roadway, making a bridge necessary.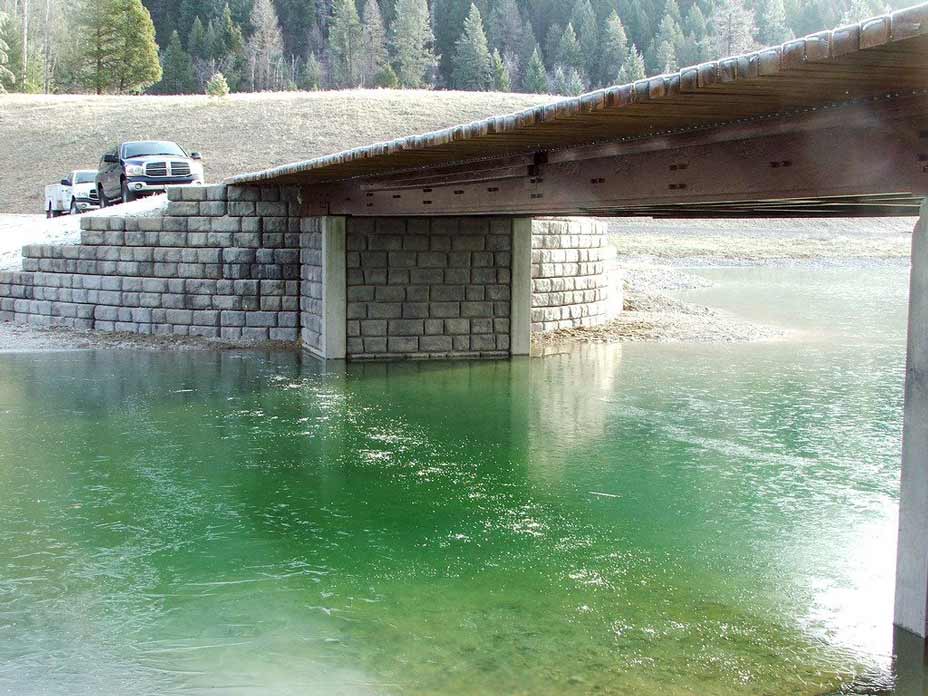 This unique bridge project incorporates Redi-Rock fin walls with a recycled flat rail car to create access to a development in Washington.
THE SOLUTION
A local contractor recommended that the developer consider Redi-Rock to construct the fin walls and add an aesthetic appeal to the precast bridge abutments. The developer was impressed with the aesthetics and the engineering Redi-Rock offered.
Local Redi-Rock producer Wilbert Precast of Spokane, Washington, designed the project in collaboration with Coffman Engineers, also of Spokane. The owner wanted to use a 55 foot (16.8 meter) long steel railroad "flat" car that weighed 13,000 pounds (5896 kilograms) as the deck of the bridge. Designers specified 28,000 pound (12700 kilogram) precast concrete abutments that were 1 foot (0.3 meters) thick, 9 feet (2.7 meters) tall and 9 feet (2.7 meters) across. The precast abutments were covered with a Redi-Rock cobblestone veneer to match the Cobblestone texture Redi-Rock fin walls that flank the bridge.
THE OUTCOME
The project included 120 Redi-Rock 41in (1040mm) gravity blocks.
The site encompassed 80 acres (32.4 hectares) and required one and a half miles (2.4 kilometers) of road to access the building site. The developer quarried all of the necessary stone to build the roads on site, then used the quarries to build four lakes.
Cobblestone veneer was added to the bridge abutments to match the aesthetic look of the Cobblestone textured fin walls on this project.
PROJECT DETAILS
Project: Wolf Creek Ranch Bridge #78 Wall Engineer: Coffman Engineers Owner: Massnick & Co. Installer: Versatile Industries of Ione, Washington Block Manufacturer: Wilbert Precast, Inc. Location: Metaline, Washington Year Built: 2008
PRODUCTS FEATURED IN THIS CASE STUDY
---
Gravity Retaining Wall Blocks - Massive, one-ton Redi-Rock gravity blocks rely on the sheer mass of each block to hold back the earth.
Cobblestone Texture Blocks - Redi-Rock Cobblestone blocks feature a great stacked stone aesthetic with the appearance of six smaller blocks.