City Chooses Redi-Rock to Protect Green Energy Installation from Erosion
---
Retaining walls support solar field
THE CHALLENGE
Saratoga Springs, New York installed a 12.6 kilowatt hour solar project in 2007 to power their waste water treatment facility. When the soil around the installation began eroding, city officials needed to find a way to halt the erosion issue and improve the overall look of the project.
"Installing the solar panels was a step in the city's overall energy performance initiative. We had an opportunity to put the latest in solar panels in the plant and we wanted to dress it up around it," Director of Public Works William McTygue said.
A retaining wall was not part of the original design of the project, but the soil surrounding the solar panels was loose and sandy, which allowed significant erosion to occur during rain storms. The grass could not grow and the area was unsightly. Since the waste water plant is a "showcase project," the Saratoga Springs Department of Public works needed to improve the look of the area.
Loose, sandy soil surrounding the solar panels made retaining walls a requirement for this project.
THE SOLUTION
The Department of Public Works is housed in an historic building and the solar panel installation needed to match the look of the facility. McTygue had seen a Redi-Rock retaining wall project at another location in Saratoga Springs and chose to use the massive gravity retaining wall blocks to build a knee-high skirting around the panel area.
Redi-Rock blocks are manufactured in different sizes and shapes, many of which weigh more than one ton. The Redi-Rock Cobblestone texture blocks used in this project have 5.75 feet (.5 meters) of face texture on each block, and give the appearance of six smaller blocks. The large blocks allow for quick and easy installation, but have the aesthetic appeal of a smaller block landscaping wall.
THE OUTCOME
The project did not require engineering because it used just two courses of blocks totaling three feet (0.9 meters) in height. The wall outlines the panel area in a rectangular shape utilizing Redi-Rock 28in (710mm) solid blocks. McTygue said that plans are underway to put pea stone in the area at the base of the solar panels and to plant grass around the retaining walls to further improve the aesthetics of the project.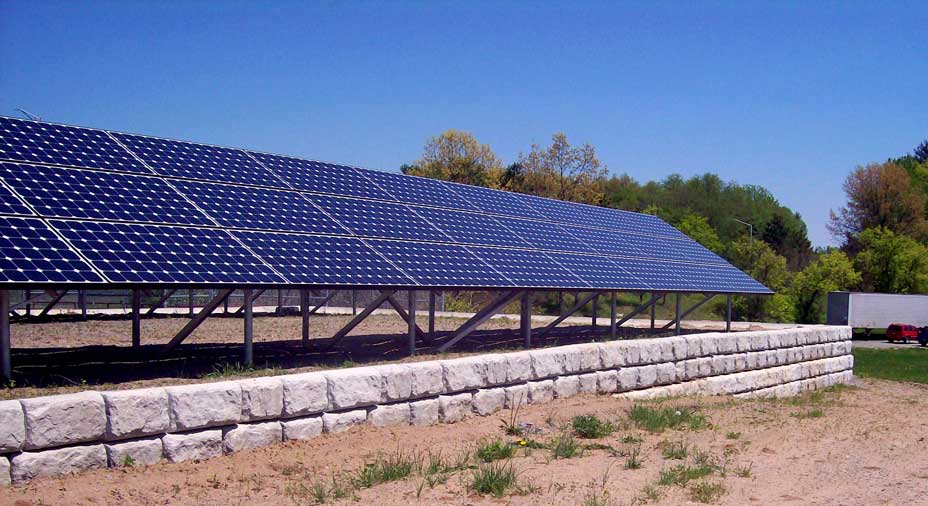 The natural stone aesthetic of the Redi-Rock Cobblestone texture blocks gave this project a look that matched historic buildings nearby.
PROJECT DETAILS
Project: Solar Panel Installation at the Saratoga Springs Water Treatment Plant #95 Owner: Village of Saratoga Springs Manufacturer: Redi-Rock Walls of the Adirondacks Installer: Saratoga Springs Department of Public Works Location: Saratoga Springs, New York Year Built: 2008
PRODUCTS FEATURED IN THIS CASE STUDY
---
Gravity Retaining Wall Blocks - Massive, one-ton Redi-Rock gravity blocks rely on the sheer mass of each block to hold back the earth.
Cobblestone Texture Blocks - Redi-Rock Cobblestone blocks feature a great stacked stone aesthetic with the appearance of six smaller blocks.