One BIG Happy Family
---
The founding fathers of the Redi-Rock system hit the market in 2000, revolutionizing the retaining wall industry with their natural stone textures and giant Lego block appeal.
Since then, the Redi-Rock family of blocks has grown tremendously. Did you know that the extended family of Redi-Rock blocks is at 80 and counting, and they all work together?
Redi-Rock: One Integrated Wall System
---
Below, you can find case studies on solutions created with Redi-Rock, including the newest product in the system -- Redi-Rock XL Hollow-Core Retaining Blocks.
Just know that Redi-Rock is one integrated system, and all the components work together. You can mix and match the blocks to optimize your next retaining wall design.
Want more Information on the Integrated System?
---
Download the Design Resource Manual for info on ALL of the blocks in the Redi-Rock system.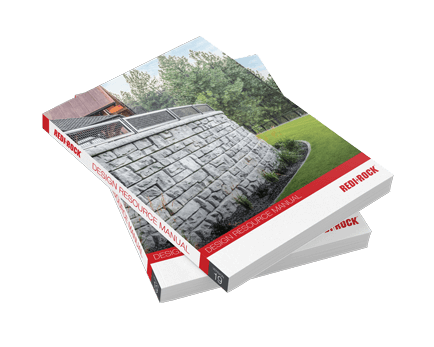 With over 80 blocks, we don't expect you to be an expert on all the ways you can mix and match components of the integrated system overnight. It's why we developed the Design Resource Manual.
It's a great starting point to find all those little details you're craving about each and every block, as well as to take a peek at common construction details and preliminary height guides.
Get the information you're after by downloading the Design Resource Manual.
Download the Manual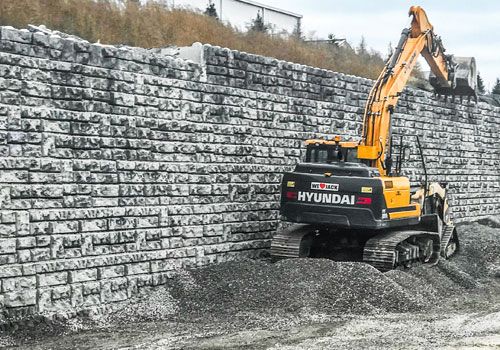 XL Blocks Optimize 25.5-Foot (7.8-Meter) Wall Design
When the need for a taller wall at John C. Tune Airport in Nashville, Tennessee, cropped up, the engineer was able to use Redi-Rock XL Hollow-Core Retaining Blocks to optimize the design and keep it a gravity retaining wall.
Read the Case Study
Standard Blocks Create World-Class Marina
The vision for Friday Harbour in Innisfil, Ontario, Canada, was brought to fruition by 38,000 standard Redi-Rock blocks - the largest Redi-Rock project to date. The 1,000-slip marina is the focal point of this premiere boaters' destination.
Read the Case Study
Positive Connection Blocks Support Rail Line
Engineers chose Positive Connection (PC) blocks to eliminate an at-grade rail crossing. By building back-to-back PC walls, which have a strong enough connection strength to support large live loads, engineers elevated one freight line on a bridge, allowing the other to pass beneath.
Read the Case Study
Freestanding Hollow-Core Block Builds Efficient Barrier Atop Wall
With buildable footprint constraints, project engineers were able to maximize the usable space at a gas station by using the Hollow-Core Freestanding block, aka Magic block, to create an efficient barrier and fence directly atop the gravity wall.
Read the Case Study
Looking for XL Technical Resources to get Started?
---