Cobblestone Concrete Retaining Wall System for Parking Lot Construction
---
Meijer chooses Redi-Rock for functionality and aesthetics
THE CHALLENGE
When Meijer, a regional supermarket and general merchandise chain, made plans to open a store in Northern Michigan, the construction site required extensive retaining walls. The City of Petoskey and Bear Creek Township are resort communities located on the hills above Lake Michigan, and as such the new Meijer storefront required an inviting, community-friendly look that fit the resort ambiance of the area.
"We had limited space behind the walls in a couple locations so we didn't have the ability to put a lot of tiebacks in. We liked the ability to have vertical walls with the weight providing the support. That was the main reason we chose Redi-Rock. Plus, the client had seen Redi-Rock walls before and agreed with that look," explained Ken Ruiter, P.E. with Fishbeck, Thompson, Carr & Huber, Inc, the engineering and architectural firm that handles Meijer new construction projects.
This Redi-Rock retaining wall was built with gravity blocks and includes caps and fencing.
THE SOLUTION
Redi-Rock is a large block retaining wall solution that harnesses the power of gravity using one-ton blocks that stack like giant Lego blocks. In many applications, Redi-Rock walls rely on the mass of the blocks for stability, rather than geogrid reinforcement.
A major benefit of the Redi-Rock system at the new Meijer project was the 9 inch (230 millimeter) setback option. Redi-Rock 9 inch (230 millimeter) setback walls step back 9 inches (230 millimeters) each course, creating a batter angle at 2V:1H. In areas where space is critical and minimizing excavation is important, 9 inch (23 millimeter) setback walls can provide a gravity solution where other products can't, saving space, time, and money on installation. The tallest wall on site stands 11 feet (3.4 meters) tall.
The project required over 1,800 blocks, which translates into roughly 10,200 square feet (947 square meters) of gravity retaining walls. Six separate walls support the site's infrastructure. Redi-Rock walls support and provide additional space for the main parking lots, create level areas for the gas station, and create an aesthetic entrance to the complex.
The 9 inch (230 millimeter) setback option is one solution to create tall gravity walls without geogrid.
To fit the aesthetic needs of the Meijer project, architects chose Redi-Rock Cobblestone texture and incorporated fencing and coordinating Redi-Rock precast steps, giving the entire project an aesthetic finish.
With Redi-Rock, there are many options for making the wall fit the local landscape. From multi-toned coloring, to multiple natural stone textures to choose from, Redi-Rock truly blends in to create a community-friendly look. Redi-Rock walls are built using massive one-ton precast concrete blocks which harness the power of gravity to create tall walls that often don't require reinforcement. In addition to retaining walls, Redi-Rock offers coordinating Freestanding walls, columns, steps and caps to meet a project's hardscaping needs.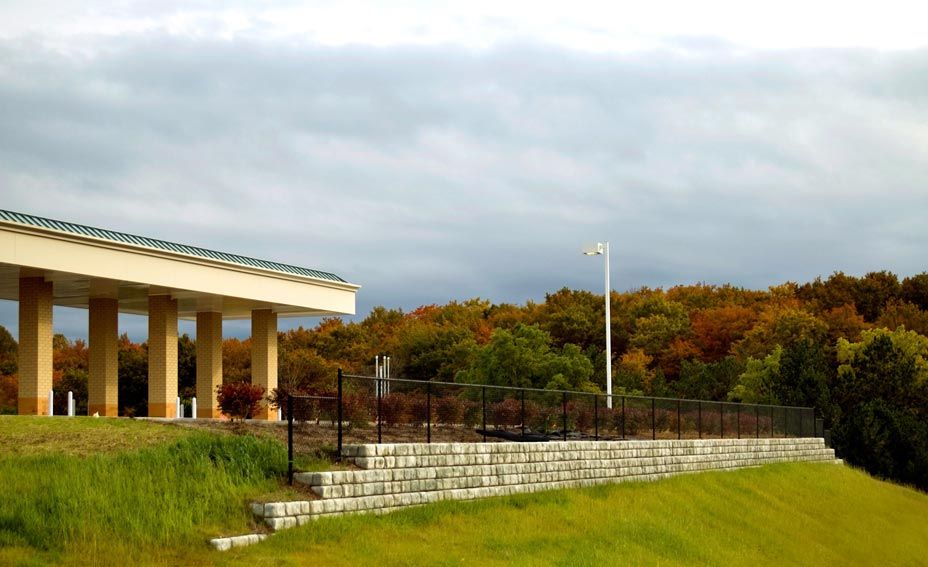 Redi-Rock Cobblestone texture blocks were chosen for this project to give it an aesthetic finish.
PROJECT DETAILS
Project: Meijer Development #119 Owner: Meijer Manufacturer: MDC Contracting Precast Installer: Elmers Crane and Dozer Inc. Engineer: Fishbeck, Thompson, Carr & Huber, Inc. Location: Petoskey, Michigan Year Built: 2009
PRODUCTS FEATURED IN THIS CASE STUDY
---
Gravity Retaining Wall Blocks - Massive, one-ton Redi-Rock gravity blocks rely on the sheer mass of each block to hold back the earth.
Step Blocks - Redi-Rock steps blocks look like natural stone steps, but have consistent dimensions so they're easy to walk on.
Cobblestone Texture Blocks - Redi-Rock Cobblestone blocks feature a great stacked stone aesthetic with the appearance of six smaller blocks.