Designing Train Track Reinforcement with Concrete Blocks
---
Redi-Rock gravity blocks used for commuter train improvements in Chicago suburb
THE CHALLENGE
In the Chicagoland area, the Metra connects surrounding suburbs with the downtown area, providing eleven separate rail lines throughout the region. Harvey, Illinois sits along the Electric District line, a 40.6 mile (65 kilometers) track with an average weekday ridership of 34,000 riders. The Harvey Metra station sits above the roadway and required a retaining wall to reinforce the tracks.
According to Redi-Rock NWI, an existing crib wall was crumbling and needed to be replaced. The City of Harvey wanted take the opportunity to improve the look of its downtown area as well as replace the aging wall, and chose Redi-Rock Limestone retaining walls to provide a solution for their crumbling wall.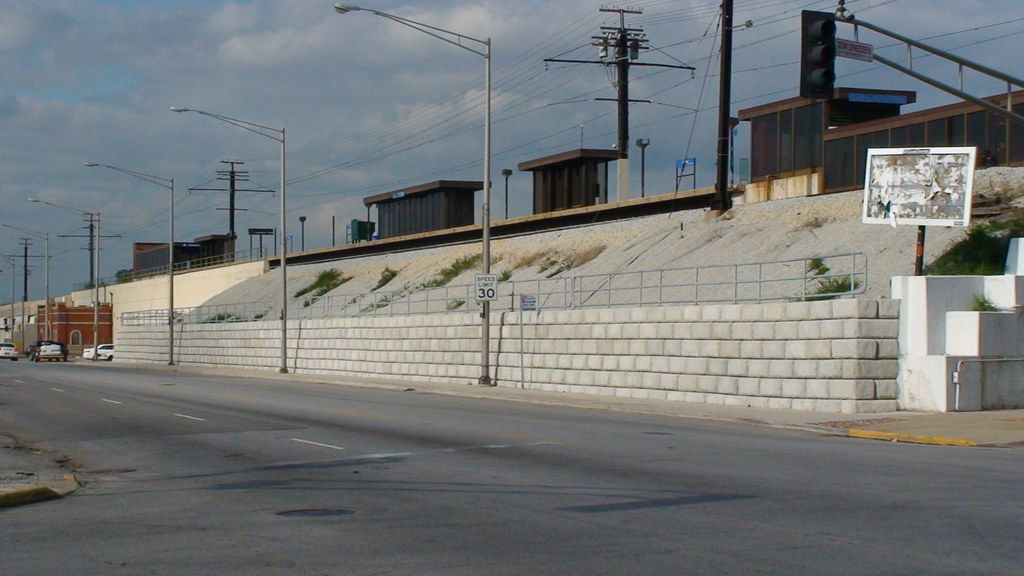 Redi-Rock Limestone blocks are used to match the aesthetics of the community.
THE SOLUTION
The Redi-Rock segmental retaining wall system consists of wet-cast concrete blocks that weigh more than one ton each and interlock like giant Lego blocks, allowing quick and easy installation. By utilizing the massive size of Redi-Rock blocks, engineers are able to design secure walls that do not require reinforcement in many applications.
The Harvey wall design called for Redi-Rock 41in (1030mm) blocks in the first three courses of the project, then two rows of 60in (1520mm) blocks for the fourth and fifth rows. The remainder of the wall was completed with 41in blocks. Herlihy Constructors was able to install the Redi-Rock wall within four to six feet (1.2 to 1.8 meters) of the existing failing wall, eliminating the need of extensive excavation and saving time.
By choosing Redi-Rock, the city received the best of both worlds - an engineered wall solution with the look of natural stone. Each block is cast in a mold taken from actual quarried limestone, which allows incredibly realistic texture. With four unique faces, up to 23 square feet (2 square meters) of non-repeating texture is available.
The wall included a total of 618 Limestone texture blocks and two 90 degree corners. Completed in the spring of 2008, the Harvey Metra project encompasses a total of 3,553 square feet (330 square meters).
Redi-Rock retaining blocks provide a solid base for the Metra commuter line.
PROJECT DETAILS
Project: Harvey, IL Metra Station #99 Customer: The Metra Design/Specifying Engineer: Rubinos and Mesia Engineers Manufacturer: Redi-Rock NWI Installer: Herlihy Constructors Location: Harvey, Illinois Year Built: 2008
PRODUCTS FEATURED IN THIS CASE STUDY
---
Limestone Texture Blocks - One of the beautiful face texture options offered on Redi-Rock blocks.
Gravity Retaining Wall Blocks - Massive, one-ton Redi-Rock gravity blocks rely on the sheer mass of each block to hold back the earth.