Bridge Abutments for Busy Commuter Rail Line
---
Multiple Redi-Rock walls support New Mexico railway
THE CHALLENGE
The central New Mexico corridor contains about half the state's population, with many living in Albuquerque and commuting to Santa Fe each day for work. The 4-lane interstate which connects the two cities was becoming increasingly congested, and expansion of the freeway was not feasible.
In 2003, New Mexico governor Bill Richardson was instrumental in making a new commuter train a reality. The Rail Runner Express was constructed in two phases-Phase I from Belen to Bernalillo was completed in 2006; Phase 2 from Bernalillo to Santa Fe was completed in 2008. Prior to construction, New Mexico DOT purchased the railway from BNSF, which gave the commuter trains priority over freight trains. The Rail Runner system also connects to Amtrak lines in Albuquerque.
In several places, the rail line passed above or below roadways, which necessitated bridge construction. To flank the bridges, prevent erosion, and provide an aesthetic finish, the bridges required abutments.
Redi-Rock retaining wall blocks support the Rail Runner project.
THE SOLUTION
Project engineers from HNTB specified Redi-Rock, a large block retaining wall system made of precast concrete that has the look of natural stone. Redi-Rock installs easily - like one-ton Lego blocks - and has the ability to build tall walls that harness the power of gravity. Even taller walls are possible with geogrid reinforcement.
Bernalillo-based Redi-Rock manufacturer Materials, Inc. had worked with Kiewit, the general contractor, on several projects in the past. Redi-Rock has a proven track record in bridge abutment applications. The massive scale of the system gives finished walls load-bearing capacity, as well as an attractive finish. Also, Redi-Rock walls can be built with varying setbacks to accommodate any site.
The engineers involved in the planning agreed that Redi-Rock was the best choice for the bridge abutments along the railway.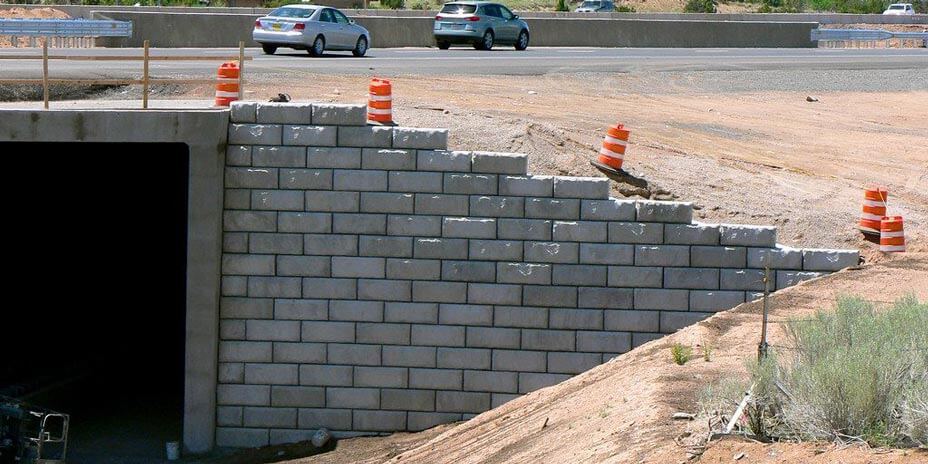 Bridge abutments were required to support the railway and engineers agreed that Redi-Rock was the best choice for the job.
HNTB wanted to outsource the wall design to a New Mexico Professional Engineer. Materials Inc. (MI) hired Don MacCornack, P.E., who has multiple years of experience designing Redi-Rock walls. Steve Hooper, P.E. with Buildology worked directly with HNTB and Terracon (the project's geotechnical engineer) to evaluate civil drawings and soil information. Hooper did preliminary designs and forwarded them to MacCornack for final design and to draw the walls for the project.
HNTB appreciated the versatility of the Redi-Rock system, as there were several different wall configurations required for the project. In total, the project required six walls comprised of 2,164 Redi-Rock blocks or approximately 12,440 square feet (1,155 square meters) of retaining walls. Two of the walls required a zero degree batter to allow them to abut box culverts and three walls required custom blocks to accommodate drainage pipe.
For the Rail Runner project, engineers designed both gravity and reinforced walls in Redi-Rock's Limestone texture. The tallest wall stands approximately 20 feet (6 meters) tall. To blend in with the native earth tones, several of the higher-visibility Redi-Rock walls were stained to blend in the landscape after construction was completed. Phase one opened in 2006 and phase two opened in December of 2008.
In total, 12,440 square feet (1,155 square meters) of Limestone texture retaining walls were constructed as part of the Rail Runner project in New Mexico.
PROJECT DETAILS
Project: New Mexico Rail Runner Express Walls #116 Owner: New Mexico DOT Block Manufacturer: Materials Inc./Buildology Installer: Joint Venture with Kiewit New Mexico (formerly Twin Mountain Construction) and Herzog Engineer: Terracon, Inc.; HNTB; Don MacCornack, P.E., MacCornack Engineering; Steven A. Hooper, PE, Materials Inc./Buildology Location: Belen, New Mexico to Santa Fe, New Mexico Year Built: 2006
PRODUCTS FEATURED IN THIS CASE STUDY
---
Reinforced Retaining Wall Blocks - Build MSE retaining walls with the revolutionary Redi-Rock the Positive Connection (PC) System.
Gravity Retaining Wall Blocks - Massive, one-ton Redi-Rock gravity blocks rely on the sheer mass of each block to hold back the earth.
Limestone Texture - Redi-Rock Limestone blocks mimic the texture of natural split Limestone.