Diverging Diamond Interchange Project Includes 16 Retaining Walls
---
Redi-Rock of K.I.T. helps value engineer safer, more efficient highways in Northern Kentucky
THE CHALLENGE
To address critical issues facing the area's aging infrastructure and traffic congestion, Boone County, Kentucky underwent major transportation upgrades along Interstate 75 at two of its busiest crossroads.
Prior to 2020 when the project began, the existing conventional diamond I-71/I-75 interchanges and two-lane crossroads at KY 338 (Richwood Road) and KY 536 (Mt. Zion Road) were causing severe traffic bottlenecks and safety issues. The limited number of lanes, alternative routes, and options for pedestrian traffic were creating severe delays for those living, commuting, and traveling in the area.
To support the interstate's heavy flow of passenger vehicles and freight transportation, plans were made to replace the two traditional diamond interchanges with a new intersection design known as a Diverging Diamond Interchange (DDI), or Double Crossover Diamond (DCD) interchange to improve safety and traffic flow.
THE SOLUTION
Only the second and third DDIs to be built in Kentucky, the state's transportation department is relying on the interchange design to reduce traffic delays and accidents around interstate ramps. A DDI design briefly shifts traffic to the left—or opposite—side of the road at a crossover section before shifting it back to the traditional side of the road. The design eliminates the need for left-turning traffic to cross paths with oncoming traffic, greatly reducing the chance of collisions.
The large-scale transportation project specified the construction of 16 Redi-Rock gravity walls to support a selection of the project's infrastructure upgrades:
I-71/75 auxiliary lanes to improve traffic flow on and off of the interstate
Expanded lanes on Mt. Zion and Richwood roads to alleviate traffic congestion and to incorporate through/turn lanes and raised medians
Intersection upgrades for safer and freer traffic movement
Service roads to improve access to local businesses
Roundabout to improve traffic flow and reduce speeds
Shared-use paths to facilitate safer and more efficient pedestrian flow
The massive project was a tri-venture between Eaton Asphalt, Haydon Bridge Company, and the John R. Jurgensen Company. Haydon oversaw various aspects of the massive project including the selection of its retaining walls.
"The project called for cast-in-place gravity walls," explained Haydon Bridge Company Vice President, Marshall Haydon. "But we went with the Redi-Rock option because we believed it would go at a much faster pace...and possibly get ahead of schedule."
As a value engineering alternative to a cast-in-place solution, gravity retaining walls were constructed with Redi-Rock 41HC (1030mm) Hollow-Core blocks. While using precast modular blocks creates installation efficiencies compared to traditional cast-in-place concrete retaining walls, using a hollow-core block with 28% less concrete than a solid precast block creates additional savings in reduced transportation costs. This reduction of materials also allows engineers to enhance the environmental friendliness of retaining wall projects.
THE DESIGN
Clint Hines, P.E., principal of J.C. Hines & Associates was tasked with the design of the project's over 23,000 square feet (2136 square meters) of retaining walls containing almost 3,000 Redi-Rock 41in (1030mm) Hollow Core blocks.
"With the 41HC (1030mm) Hollow-Core block, you basically get all the structural advantages of the 41HC (1030mm) solid block, with 28% less weight," noted Hines. The hollow-core block can be used in conjunction with any other Redi-Rock block to create optimized wall sections. Redi-Rock's weight calculations, preliminary height guides, and Redi-Rock Wall+ software ease the transition to incorporating the blocks into wall designs.
The natural aesthetic of Redi-Rock Ledgestone texture was selected to blend seamlessly with the exposed rock face found naturally throughout the state.
Typical Gravity Wall Section with 41HC (1030mm) Hollow-Core blocks
THE INSTALLATION
Block manufacturer, Redi-Rock K.I.T. both provided and installed the Redi-Rock blocks for the large-scale project. K.I.T. Co-owner and General Manager, Irvin Vittitow sees more and more project owners turning to Redi-Rock precast modular block retaining wall solutions over cast-in-place.
On even the most expansive transportation projects, compared to cast-in-place walls, Redi-Rock offers:
- Faster installation: Redi-Rock's ease of installation saves valuable time and resources while protecting utilities from unnecessary elements or exposure – unavoidable with cast-in-place applications. - Better aesthetics: Redi-Rock blocks are precast with natural stone textures, a costly and laborious addition to cast-in-place walls. - Added convenience: Redi-Rock blocks can be inventoried, expediting installation by saving contractors the hassle of scheduling the delivery of poured concrete. - Cost efficiencies: By saving contractors valuable time and resources, Redi-Rock retaining wall solutions can provide major project efficiencies over cast-in-place alternatives.
A total of 3,908 Redi-Rock blocks were used to construct the 16 gravity retaining walls for the job. The tallest wall, at 12 feet (3.7 meters) high, accommodated a new roundabout at Mt. Zion and Triple Crown Boulevard. The K.I.T. crew completed the retaining walls over an 18-month period, installing approximately 100 Redi-Rock blocks per day.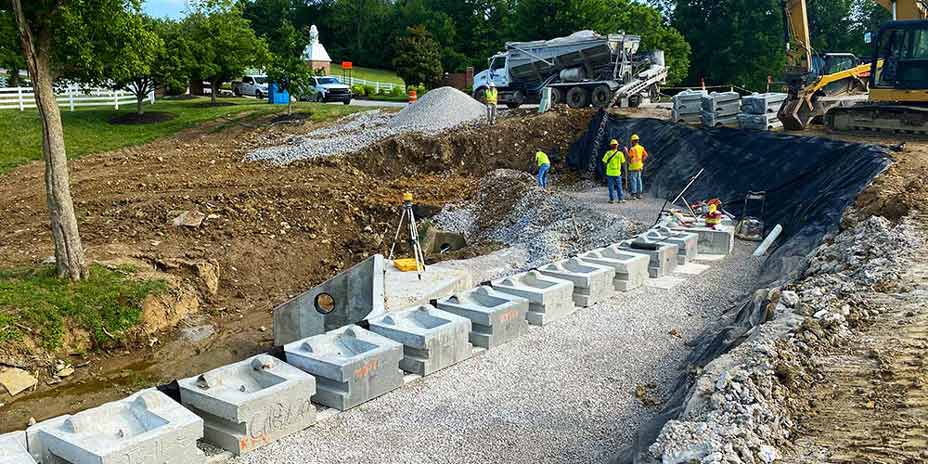 A gravity wall prepares the Richwood Rd. and Triple Crown Blvd. intersection for a new roundabout.
THE OUTCOME
The massive project, rooted in the implementation of innovative design, has made transport in Northern Kentucky safer and more efficient. The infrastructure upgrades have increased through and turning capacity on Mt. Zion and Richwood roads, reduced backups at the I-75 entrance and exit ramps, and considered the needs and safety of pedestrians in two of Boone County, Kentucky's heaviest traffic areas. Bold civil design concepts like Diverging Diamond Interchanges will continue to change the way America commutes and the way contractors approach the materials used in this critical infrastructure.
Haydon's positive experience with Redi-Rock prompted them to continue their work with Vittitow and the team at Redi-Rock K.I.T. on another nearby interchange project.
"The construction process is very fast paced and everyone that we have dealt with on the Redi-Rock side has been very good to deal with," said Haydon. "We actually changed a cast-in-place gravity wall to a Redi-Rock wall on the Graves Road project in Hebron, Kentucky once we saw how well the walls were going on this project."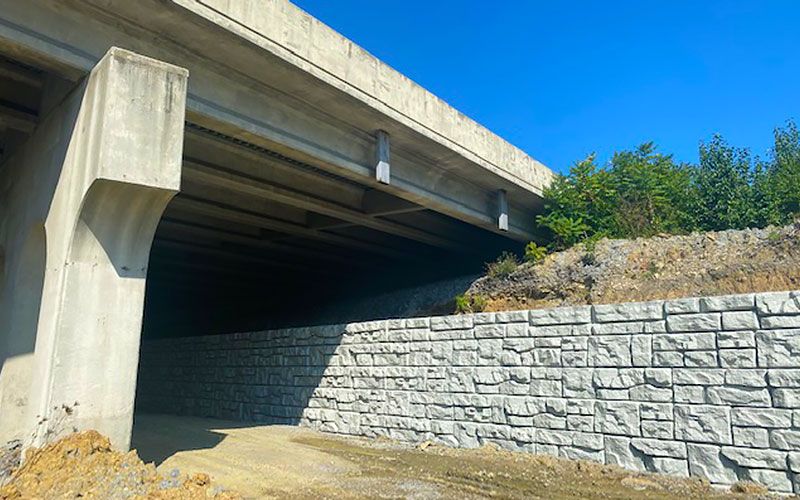 Shared-use paths were incorporated underneath both interchanges to facilitate safer and more efficient pedestrian flow.
PROJECT DETAILS
Project Name: I-75 Boone County, Kentucky #227 Contractors: Haydon Bridge Company, Eaton Asphalt, John R. Jurgensen Company Engineer: J.C. Hines & Associates Manufacturer/Installer: Redi-Rock K.I.T. Location: Boone County, KY Year Built: 2020-21
Aerial imagery provided by the Kentucky Transportation Cabinet.