Spokane Church Creates Memorial To Honor Veterans
---
Redi-Rock walls provide aesthetic, cost effective solution
Honoring veterans for their service hits close to home in many communities as family members and friends have paid the ultimate sacrifice with their service. Memorials act as a physical way to remember and honor those who have served our country and to pay respect for their sacrifices.
Unfortunately, creating a memorial is often considered too cost prohibitive for a small town or church to create. At Redi-Rock, we believe that any town or church should be able to create a memorial to honor veterans in a tangible, yet relatively inexpensive way.
Here, a Spokane, Washington church shares its experiences in creating a memorial in a beautiful, efficient, and cost effective way by adapting Redi-Rock freestanding, column, and cap blocks for use as a memorial wall to give community members a place to pay their respects.
THE CHALLENGE
Creating a veterans memorial at Valley Fourth Memorial Church in Spokane started as a simple, small project that quickly grew into something bigger and more powerful than anyone expected.
The church regularly sends care packages to service members overseas, but one day one of the packages was returned because the soldier had been killed in action. The church began grieving with the soldier's grandparents who attended the church. Since the fallen soldier was buried in Texas, his family wanted a place to remember him in Spokane.
Church member Craig Holmes explained that the idea for a memorial started as a suggestion for a single flagpole in memory of all service members. "Then one thing led to another and we thought we'd do a memorial," Holmes told the Spokane Spokesman-Review newspaper.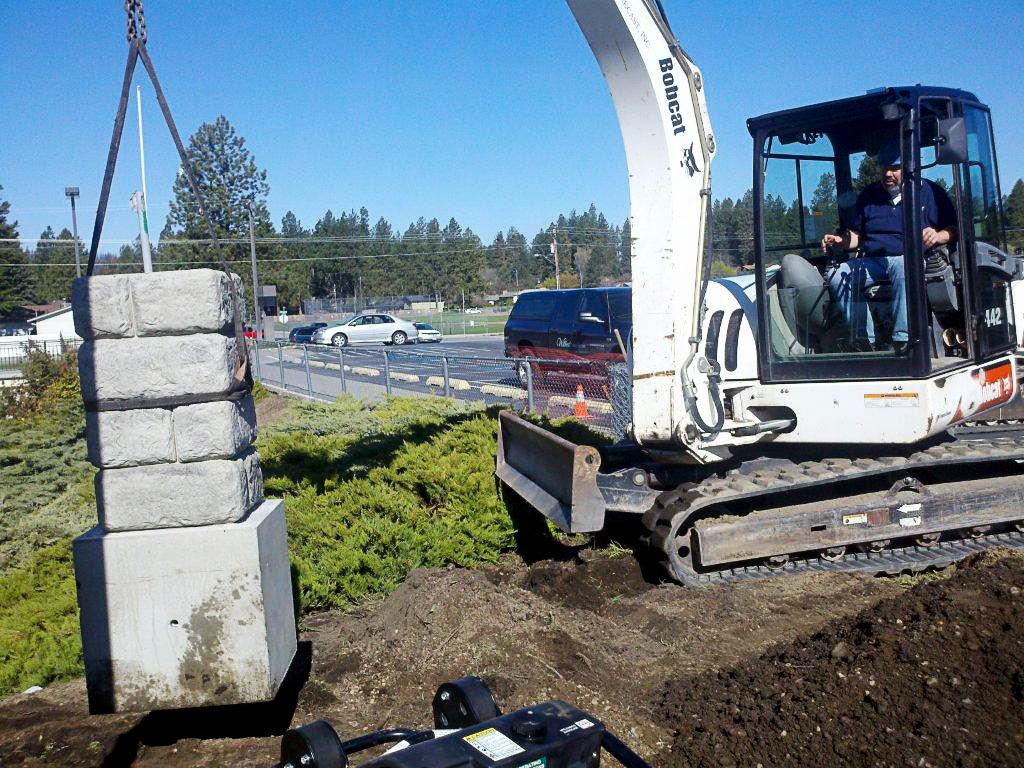 This unique Redi-Rock memorial project was completed in just three days.
THE SOLUTION
A church member contacted Rick Lindberg of Wilbert Precast in Spokane to see if Redi-Rock precast concrete wall blocks might be a good solution for building a memorial wall within the church's budget. Redi-Rock is most commonly used for retaining walls, or freestanding walls used as seat walls or traffic barriers. With 20 years of experience as a landscape contractor, Lindberg was confident that adapting Redi-Rock for the memorial's design would be a great fit.
"Redi-Rock is easy to install and the components are easy to work with. It's a modular system, but you've got options in the design," Lindberg explained.
"The beauty of Redi-Rock pavers and blocks is that they're quick, easy, and inexpensive compared to poured-in-place stamped concrete. Trying to do the same project with stamped concrete would just be outrageously expensive. You'd be dealing with a short load, a stamp, and you wouldn't get the quality of concrete that we use to produce these blocks. There are just so many advantages to using Redi-Rock over poured in place for an application like this," Lindberg said.
Some other advantages include three natural stone textures-Cobblestone, Limestone, and Ledgestone. Each of these textures can be produced in colors that accent existing stone work to match a project's aesthetic. And since Redi-Rock is manufactured regionally (130+ manufacturers worldwide), creating a color that fits your project is definitely possible. For this project, the church chose Cobblestone texture in a two-tone gray color.
As a testament to how much support the Valley Fourth Memorial has had, Holmes explained that "church members estimated the project would cost between $12,000 and $15,000. As people heard about the plans, donations came pouring in." By the spring of 2011, the church had raised about $19,000 without even doing any fundraising.
Several local veterans attended the dedication of the memorial in May 2011.
The church budgeted $12,000 for the memorial wall and patio, but the Redi-Rock required for the project only came to $8,000-considerably under budget.
The project's design included Redi-Rock freestanding blocks, columns, caps and pavers, plus a custom flagpole base textured to look like Redi-Rock and custom smooth concrete slabs to hold the memorial plaques. A large plaque in the center of the memorial pays tribute to all service people past and present, while smaller plaques on either side honor veterans who have been killed in action since 9/11.
The memorial itself was installed by Wilbert Precast's own crew in just three days from starting demolition to completing the Redi-Rock walls.
The crew used a small excavator to stack the blocks like giant Legos. Each block has a knob and groove construction that engages when stacked-requiring no mortar. Since the blocks are made of architectural-grade precast concrete and are so massive, the church had no worries about even the most determined vandals moving the memorial.
THE OUTCOME
The memorial was dedicated in May of 2011 and several local veterans attended. Now, members of the Spokane community have a place to go 24 hours a day to grieve a loved one. "It kind of built up larger than we had dreamed or hoped," Holmes told the newspaper.
Redi-Rock Cobblestone textured freestanding walls, caps, columns and other custom products were used to create this beautiful veterans memorial.
PROJECT DETAILS
Project: Valley Fourth Veteran's Memorial #144 Owner: Valley Fourth Memorial Church Manufacturer: Wilbert Precast Installer: Wilbert Precast Location: Spokane, Washington Year Built: 2011
PRODUCTS FEATURED IN THIS CASE STUDY
---
Freestanding Blocks - Redi-Rock freestanding blocks are textured on both sides, giving above-grade walls an unbeatable, finished look for any project you design.
Cap Blocks - Redi-Rock cap blocks are the perfect way to finish a retaining wall, freestanding wall, or column.
Columns - Redi-Rock columns can coordinate with retaining walls or freestanding walls, and even fencing!
Cobblestone Texture Blocks - Redi-Rock Ledgestone blocks give projects a random, stacked stone look.