Retaining Wall Helps City Put Community Master Plan into Place
---
Bridge wing walls contribute to Chesterfield's plan to make walkable, bikable community areas
THE CHALLENGE
The city of Chesterfield, Missouri has been working toward creating outdoor spaces where residents can come together to make the most of their community. Since 2001, Chesterfield has had a plan to make more pedestrian-friendly spaces. In 2016, construction began on a new 230-foot (70-meter) long pedestrian bridge crossing a busy highway, which was the next step in making the city's plan a reality.
"The city of Chesterfield has had a walkable, bikeable masterplan on the books for quite some time," said Zach Wolff, the city project manager. "This was a way to provide pedestrian access across Interstate 64."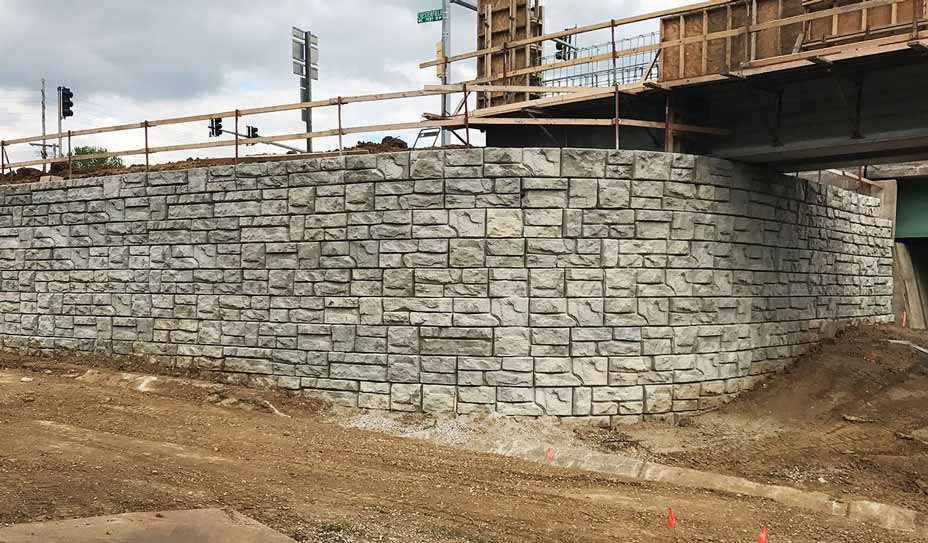 Structural Ledgestone faced Redi-Rock blocks were chosen to hold back the earth for the new bridge project.
A narrow vehicular bridge connected restaurants and a shopping center on one side of the interstate with commercial buildings and apartments on the other side.
"We looked at alternatives from the design side to possibly widen the existing bridge--to add that sidewalk," said structural engineer David Maxwell, P.E., from HR Green, the project design firm, "but it just wasn't feasible to do that from a cost standpoint."
Chesterfield needed a structurally sound retaining wall to hold back the earth in front of the bridge abutment. They also needed that wall to deliver an aesthetically pleasing result.
"We wanted the look of stacked stone," Maxwell said, "but it also had to be a wetcast solution" to withstand Missouri's corrosive winter salt spray and still look good.
THE SOLUTION
Because the walls would go over the highway, the Missouri DOT was looking for a structural solution that wouldn't deteriorate. The unreliability of modular dry cast blocks to provide support over the long run left panel walls and precast retaining blocks vying for the job.
Although panel walls were initially considered for the project, the designer chose Redi-Rock, a large block retaining wall system, because it had a stacked stone look that suited the durability and aesthetic needs of the project.
"The research we've done is that, in most cases, the Redi-Rock would come in as more cost effective than what the panel wall system would be," said Jeff McKay of local Redi-Rock manufacturer Schreiter Concrete. Redi-Rock's easy installation process keeps labor costs down.
The project used a Redi-Rock retaining wall at a one degree batter for a near vertical appearance placed three feet (1 meter) in front of the steel piles driven to bedrock supporting the load of the bridge.
Redi-Rock is made out of architectural-grade 4,000 PSI (27.6 MPa) concrete, making it extremely durable for projects that need sturdy solutions or need to last through tough winter weather. Redi-Rock's precast nature offers several benefits including an ability to stand up to harsh freeze thaw cycles and abrasive sprays used on roadways in places like Chesterfield to decrease road slip. Precast products also offer options for deep face texture, making natural looking stone possible for industrial retaining projects.
Installer Mike Yount of Retaining Wall Solutions had a three man crew install 2,800 square feet (260 square meters) of wall using a Bobcat and a mini excavator. This reinforced wall has 490 Redi-Rock blocks and is 16.5 feet (5 meters) tall at the highest point.
THE OUTCOME
The engineers made the project a success by finding the right products to get the job designed in a way that would deliver a long-term, durable solution.
Chesterfield pedestrians and bike riders are now able to cross over the interstate safely, and this bridge has put another component of Chesterfield's master plan in place.
The finished retaining wall and bridge provide a sturdy long term solution that offers pedestrian accessability over the freeway
PROJECT DETAILS
Project: Chesterfield Pedestrian Bridge #200 Block Manufacturer: Schreiter Concrete Engineer: HR Green, Inc. & Retaining Wall Solutions, Inc. Installer: Millstone Weber, Inc. Location: Chesterfield, Missouri Year Built: 2016-2017
PRODUCTS FEATURED IN THIS CASE STUDY
---
Ledgestone Texture Blocks - Redi-Rock Ledgestone blocks give projects a random, stacked stone look.