City Chooses Redi-Rock Retaining Walls to Reduce Right of Way Requirements
---
Corridor over lake minimizes footprint using gravity walls
THE CHALLENGE
When the City of Lacey, WA set out to rebuild a 6,000 foot (1829 meter) section of Carpenter Road, the main goal was to convert the 2 lane arterial road to a 4-5 lane arterial.
"The challenge was that the road went through a commercial and residential area so we were really tight on right of way acquisition," explained Lacey City Project Engineer Roger Schoessel, P.E. "We could only go so far before we were buying houses and businesses, so retaining walls and structural walls both became a huge component of the project to minimize the right-of-way requirements."
Another challenge was that 300-400 feet (91-122 meters) of the roadway crossed a lake, which also required minimizing the road's footprint as much as possible. To top it all off, the city had to pack multiple utilities in the same corridor.
"Through the analysis, particularly where we crossed Lake Lois, we determined that we were looking for a retaining wall system that did not require tie backs," Schoessel said.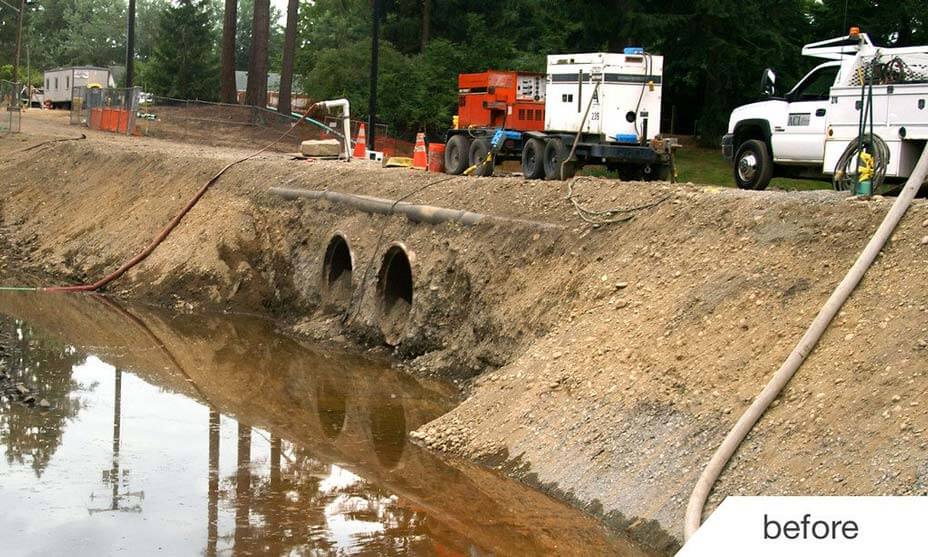 Redi-Rock gravity walls allowed the city to construct the roadway across a lake, while reinforced walls were used elsewhere for especially tall roads.
THE SOLUTION
"When we started doing the structural screen, we chose the Redi-Rock system because it could meet the structural requirements-it didn't require tiebacks and it could meet the seismic code," Schoessel explained.
"Redi-Rock's flexibility allowed design of gravity walls where right-of-way was limited and reinforced walls where required for greater height," said Dean M. White, P.E., Principal Engineer of E3RA Inc.
The massive size of each one-ton Redi-Rock harnesses the power of gravity, making it possible to build tall gravity walls without reinforcement. This factor allowed the City to build retaining walls in tight spaces to minimize right-of-way issues.
In addition, "The cost was a big factor. Redi-Rock was very reasonably priced wall when we started comparing it to other types of wall systems," White said.
Gravity and freestanding walls from Redi-Rock allowed the City to minimize right of way requirements.
Aesthetics also played a role in the decision. Because the project design called for 25,000 square feet (2323 square meters) of retaining walls, the City chose Redi-Rock's Cobblestone texture in a two-tone gray color from local manufacturer Puget Sound Precast to make sure the project had an aesthetic finish. "Redi-Rock is an attractive product with good aesthetics for this suburban community," White said.
The project required a total of 15 separate gravity retaining walls.
Where the road crossed Lake Lois, engineers designed Redi-Rock headwalls to flank a corrugated culvert to allow water to flow between the two sections of the lake. "The submerged, tiered, soil reinforced walls crossing the lake are fairly unique. We don't see that combination very often," White explained.
Another notable section of the project included a 600-foot (183 meters) long wall that consisted of two 12 foot (3.7 meter) tall terraced walls. The top 4.5 feet (1.4 meters) of the upper wall used Redi-Rock freestanding blocks topped off with a cap to create a railing for the sidewalk. Several other areas throughout the project used freestanding walls, columns, and caps in conjunction with the retaining walls as well.
To put the scale of this project in perspective, the 25,000 square feet (2323 square meters) of walls required over 5300 Redi-Rock blocks.
Using Redi-Rock retaining walls allowed the City to minimize right-of-way requirements, meet the seismic code, provide an aesthetic retaining wall solution for the roadway, and do so in a cost-effective manner.
Construction of these Redi-Rock walls was fast, allowing the project to finish ahead of schedule.
PROJECT DETAILS
Project: Carpenter Road Reconstruction #137 Customer: City of Lacey, Washington Engineer: E3RA, Inc.; WHPacific; City of Lacey Department of Public Works Block Manufacturer: Puget Sound Precast Installer: Active Construction, Inc. Location: Lacey, Washington Year Built: 2011
PRODUCTS FEATURED IN THIS CASE STUDY
---
Gravity Wall Blocks - Massive, one-ton Redi-Rock gravity blocks rely on the sheer mass of each block to hold back the earth.
Retaining Wall Accessories - Steps, caps, and columns coordinate with Redi-Rock retaining wall products to give your project a cohesive look.
Freestanding Blocks - Massive, one-ton Redi-Rock gravity blocks rely on the sheer mass of each block to hold back the earth.
Cobblestone Texture Blocks - One of the beautiful face texture options offered on Redi-Rock blocks.