Value Engineered Retaining Walls for Road Widening Project
---
Kentucky Transportation Cabinet saves $478,445 with Redi-Rock retaining walls
THE CHALLENGE
In 2015, The Kentucky Transportation Cabinet (KYTC) began work on a multi-million-dollar road widening project for New Circle Road, a multi-lane limited access highway on the northwestern edge of Lexington, KY. The scope of the project included nearly 3.2 miles of lane additions, shoulder widening, on-ramp and exit ramp realignment, and bridge widening between US Hwy 60 (Versailles Road) and US Hwy 421.
To make the highway improvements possible, several retaining walls were needed to accommodate the required grade transitions throughout the project. The original spec called for eight cumbersome and expensive drilled pier soldier pile cantilever retaining walls, several of which had maximum exposed heights over 15 feet (4.6 meters) with minimal setback from the available right-of-way.
When the contract for the job was awarded to ATS Construction, Amos Hubbard, estimator and project manager for Central Bridge Company, a subcontractor to ATS Construction, began searching for a more cost-effective, less burdensome alternative solution for the walls on the project. "We proposed changing to gravity retaining walls, the State asked if we would consider using Redi-Rock, and we said we would love to," said Hubbard.
THE SOLUTION
Redi-Rock is a complete, engineered retaining wall system that uses massive, precast concrete blocks that stack together like giant Legos to build walls that stand the test of time. Redi-Rock gravity blocks are used to build tall retaining walls without the need for external anchors or geogrid reinforcement.
Having used Redi-Rock on previous retaining wall projects, Hubbard contacted local Redi-Rock manufacturer and installer, Redi-Rock of Kentuckiana, to find out if Redi-Rock could be used to value engineer the walls on the New Circle Road project.
Redi-Rock of Kentuckiana turned to Clint Hines, P.E., consulting engineer at JC Hines & Associates to design a more economical retaining wall alternative to the specified pile and lagging walls.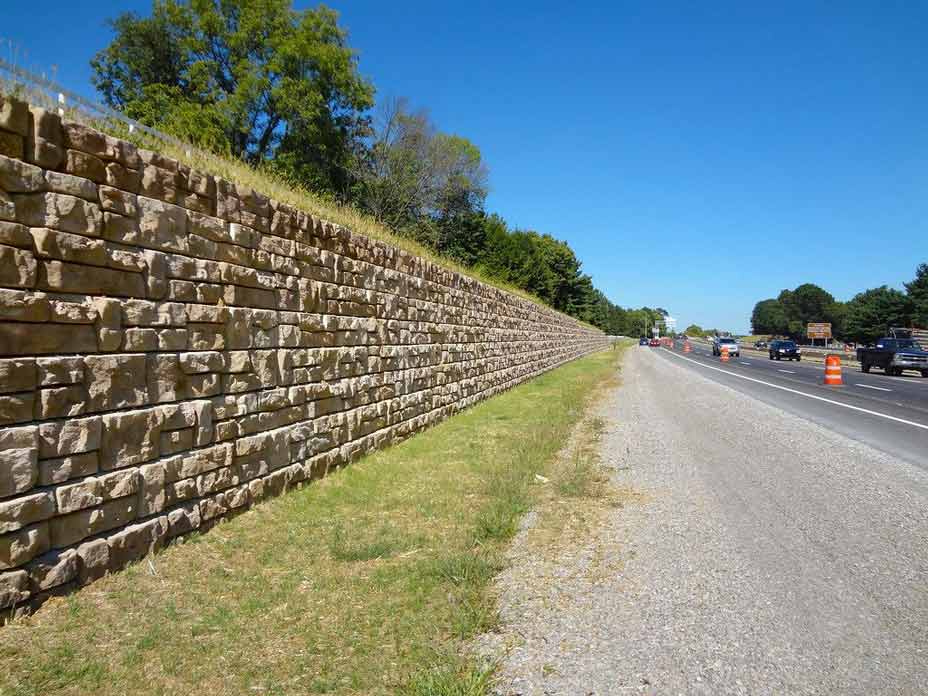 Redi-Rock walls install quickly and within a small footprint, allowing this beautiful Ledgestone texture gravity wall to be built without impeding the flow of traffic.
Hines explained, "The close proximity of competent limestone bedrock to the proposed bottom of wall elevation for most of the walls on the project gave us some great options for proposing optimized modular gravity wall structures. By taking advantage of the ability to key into the rock and an occasional base course of deeper set-back Redi-Rock block units, we were able to make a maximum overall design height of 18 feet (2.4 meters) work within the limits of AASHTO LRFD design requirements."
With Hines' help, Redi-Rock of Kentuckiana's value engineered proposal using the Redi-Rock gravity retaining wall system met AASHTO/LRFD specifications and was accepted by the KYTC.
Once the design was approved, Central Bridge Company and Redi-Rock of Kentuckiana had to adhere to a strict deadline as they began excavation and installation of the Redi-Rock walls. The first two phases of the New Circle Road project, which included the retaining walls, had to be completed prior to the 2015 Breeders Cup being held at the Keenland race course in late October, or else Central Bridge would face a steep $100,000 per day penalty.
In addition to the deadlines, construction had to be done without impeding the flow of traffic along the highway. This was especially difficult along the stretch of highway running adjacent to Calumet Farms where the easement was quite limited. Fortunately, a huge advantage of the Redi-Rock gravity system is its ability to be installed quickly and within a small footprint using a few pieces of machinery and a small crew.
It took just 38 working days to complete all eight retaining walls. In fact, Phil Fassler, Business Development Manager for Redi-Rock of Kentuckiana said, "we had one day where we installed 2,000 square feet (185.8 square meters) - a new record for us."
THE OUTCOME
The original project called for eight retaining walls, but prior to the project's completion, a ninth ramp wall was added bringing the total wall space to 41,000 square feet (3,809 square meters). Over 7,200 blocks were required for the project, all in the Ledgestone face texture and the "Kentuckiana Buff" color scheme, consisting of multiple earth tones.
According to Hubbard, they were able to complete the two phases of the project before the deadline, earning ATS Construction the max bonus they could get from the State.
The collaborative efforts of Redi-Rock of Kentuckiana and JC Hines & Associates to value-engineer the New Circle Road project using Redi-Rock saved $478,445.20 which was shared between the State and ATS Construction/Central Bridge Company, as well as several weeks' worth of construction time.
PROJECT DETAILS
Project: New Circle Road Widening #183 Owner: Kentucky Transportation Cabinet Manufacturer: Redi-Rock of Kentuckiana Engineer: JC Hines & Associates Installer: Redi-Rock of Kentuckiana Location: Lexington, Kentucky Year Built: 2015