VA Hospital Chooses Redi-Rock for Construction
---
Aesthetic solution for entrance and parking lot construction
THE CHALLENGE
The VA Western New York Healthcare System at Buffalo is an integrated, university-affiliated Medical Center providing a full continuum of medical, surgical, mental health, and long term care services.
The VA Hospital created a beautiful entrance using Redi-Rock freestanding walls and columns.
The facility was in need of three things, all of which had to be architecturally pleasing:
A secure ceremonial area around the front entrance
A force protection wall
A 9 foot (2.7 meter) tall non-reinforced retaining wall near a property line that would allow the facility to maximize its parking area
THE SOLUTION
To achieve these goals, the VA Hospital turned to Redi-Rock. Local Redi-Rock manufacturer Kistner Concrete was able to provide Limestone texture freestanding walls and columns for the front entrance of the hospital, creating a beautiful, inviting park area to honor the service of all military personnel.
In addition, designers took advantage of the Redi-Rock retaining wall system to build a tall gravity wall to maximize the parking area of the hospital. Gravity walls are ideal for maximizing space because they require minimal excavation and can be installed quickly. The walls rely on the massive size of each one ton block to hold back the earth.
For barrier walls on site, designers used the Redi-Rock force protection system, which utilizes J-bolts to interlock blocks and provide a deterrent for traffic and other moving objects.
By using Redi-Rock, the designers of this project were able to provide an aesthetic, structural solution for the Buffalo VA Hospital.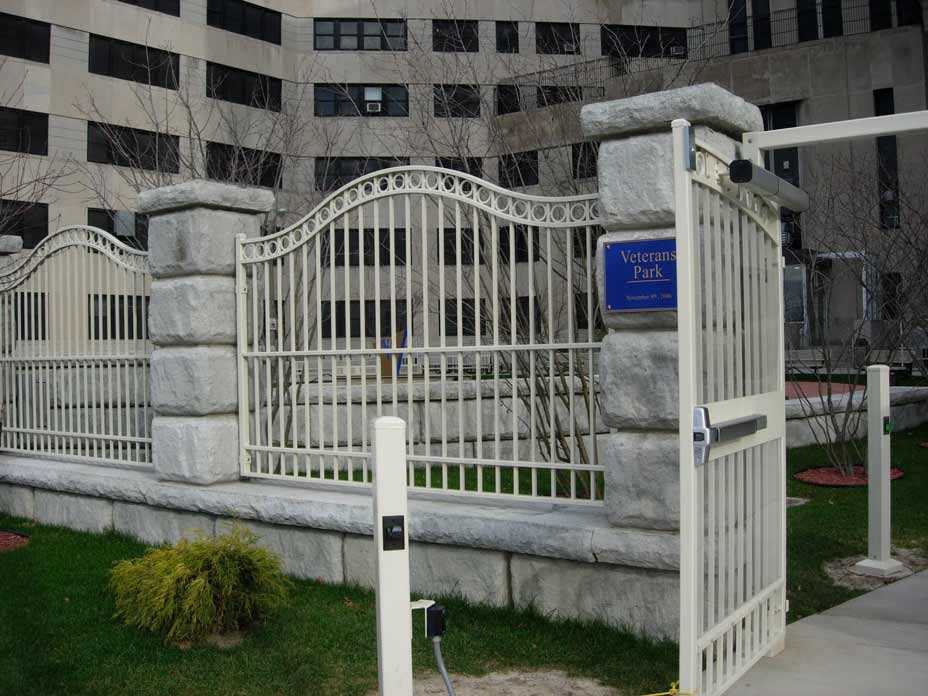 In addition to constructing a beautiful entrance, the VA hospital also used Redi-Rock gravity walls to maximize parking space in the parking lot.
PROJECT DETAILS
Project: Buffalo Veterans Affairs Hospital #30 Customer: VA Healthcare System Engineer: VA Engineer Manufacturer: Kistner Concrete Installer: Strock Contracting Location: Buffalo, New York Year Built: 2006
PRODUCTS FEATURED IN THIS CASE STUDY
---
Gravity Retaining Wall Blocks - Massive, one-ton Redi-Rock gravity blocks rely on the sheer mass of each block to hold back the earth.
Freestanding Blocks - Redi-Rock freestanding blocks are textured on both sides, giving above-grade walls an unbeatable, finished look for any project you design.
Columns - Redi-Rock columns can coordinate with retaining walls or freestanding walls, and even fencing!
Cap Blocks - Redi-Rock cap blocks are the perfect way to finish a retaining wall, freestanding wall, or column.
Limestone Texture - Redi-Rock Limestone blocks mimic the texture of natural split Limestone.