MMC Materials
---
Your Mississippi Source for Redi-Rock Retaining Walls
Looking for a retaining wall in Jackson, Corinth, Tupelo, Starkville, Oxford, Meridian, Greenville, or Hattiesburg? We've got you covered! MMC Materials has been providing Redi-Rock products to Mississippi since 2014!
Get Pricing
When you're ready to dig into the Redi-Rock solutions available for Mississippi, Andrew Lester is the guy to talk to! He will be able to help you find your specific project needs and match up the Redi-Rock solution that will work best. Redi-Rock offers a complete product line in the Mississippi, from gravity retaining walls, to reinforced walls, to freestanding walls. We also have 2 textures available - Cobblestone and Ledgestone. Learn more about Redi-Rock in this video!
Redi-Rock Retaining Walls from MMC Materials are Available in:
Jackson, Mississippi
Gulfport, Mississippi
Biloxi, Mississippi
Corinth, Mississippi
Tupelo, Mississippi
Oxford, Mississippi
Meridian, Mississippi
Starkville, Mississippi
Our Central MS Location
Phone: (601) 898-4000
Address: 1052 Highland Colony Parkway, Suite 201 Ridgeland, MS 39157
Ledgestone Texture
Ledgestone blocks give projects a random, stacked stone look. Because they're made using architectural-grade precast concrete, the level of detail in the texture is outstanding. Up to 115 square feet (10.5 square meters) of non-repeating texture is available.
Cobblestone Texture
Cobblestone blocks have a great stacked stone aesthetic. Each one-ton block features the appearance of six smaller blocks, making it a great look for projects that need a smaller-scale look. Up to 23 square feet (2 square meters) of non-repeating texture is available.
Local Walls in Mississippi and Alabama
---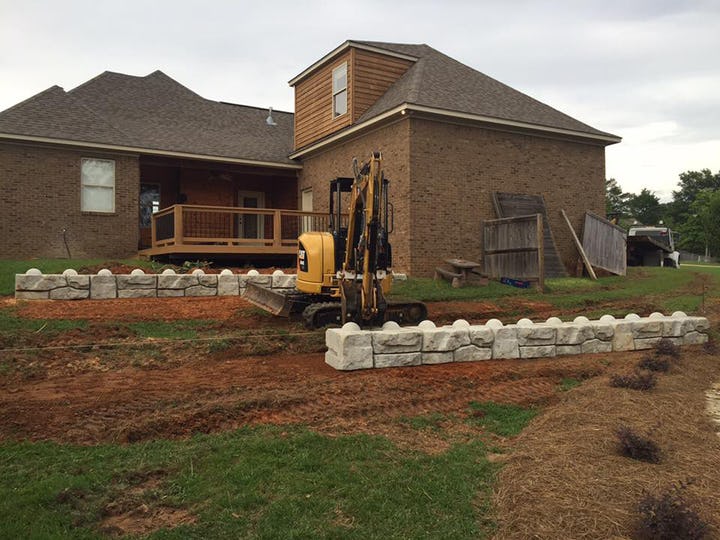 Flowood, Mississippi, Residential Project
The construction of this Jackson area Ledgestone texture retaining wall from MMC Materials was long overdue for these homeowners. This retaining wall gives these homeowners a beautiful landscape at a competitive price, as well as protecting their lot from the erosion factors in the central Mississippi area.
Cobblestone Wall in Mobile, Alabama
An apartment complex in Mobile, Alabama, was in need of more space and wanted a retaining wall that could be placed quickly, looked great, and created more space for the growing neighborhood. The Redi-Rock Cobblestone Texture from MMC Materials blends in with the environment and proved to be a perfect solution for this South Western Alabama county.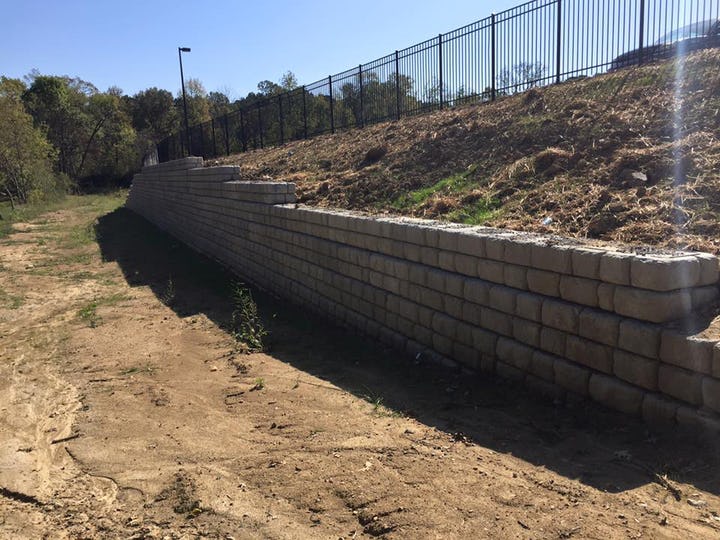 Gravity Wall in Starkville, Mississippi
This Cobblestone texture wall proved to be a durable and effective solution, that looks great too, for this previously overcrowded parking lot. These retaining walls helped to create space by holding back the earth so the parking lot could be expanded in this North Eastern Mississippi area. This project includes a mix of Redi-Rock gravity retaining walls and freestanding walls from MMC Materials.