Duracrete Products, Ltd.
---
New Zealand's Only Source for Redi-Rock Retaining Walls
Looking for a strong retaining wall solution to road slip repair? Or perhaps something that looks beautiful for residential developments? Duracrete has the perfect solution that will save you time and money due to quick & simple installation.
Get Pricing
About Duracrete Products
---
Duracrete Products LTD is a Whangarei based family-owned business founded in 1965. In 2015, after focusing on concrete water tanks for many years, Duracrete became New Zealand's exclusive license holder of Redi-Rock International. Contact Your Redi-Rock Experts: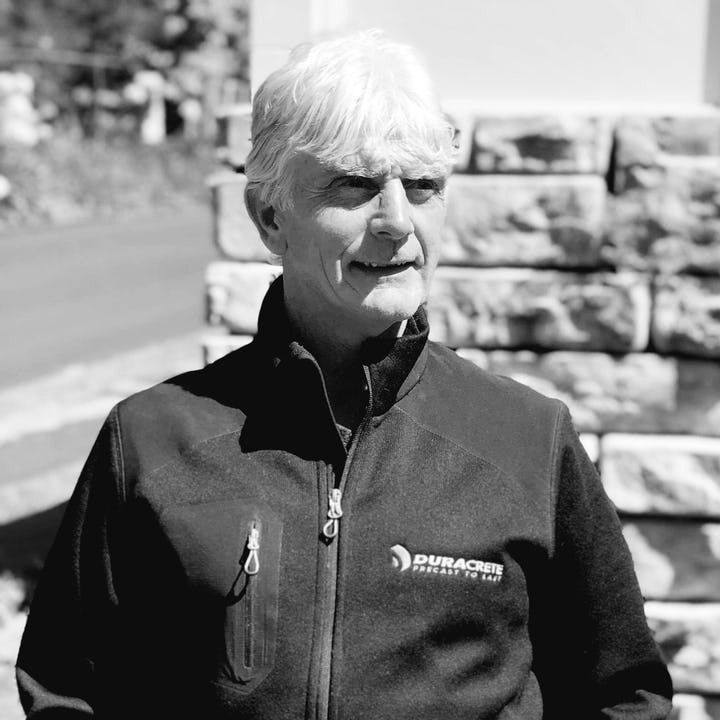 David Hepburn Business Development Manager Phone: 0800 387 227 Email: david@duracrete.co.nz
Clive Adams Operations/Redi-Rock Manager Phone: 021 951 058 Email: clive@duracrete.co.nz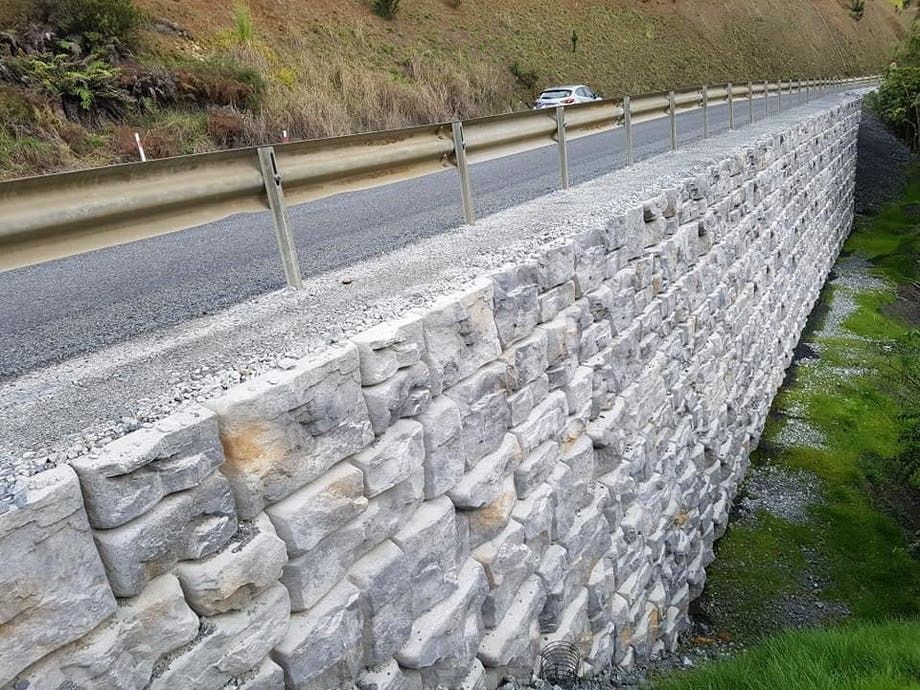 Before Using Small Blocks or Gabion Walls for Your Next Road Slip Repair in New Zealand...
Imagine a different kind of solution with simple installation, natural-looking textures, and big enough blocks to build walls up to 4.5 meters (15 feet) without reinforcement.
With Redi-Rock's large, precast modular blocks, delight customers with a retaining wall that won't create huge excavation footprints or dig into property lines.
Most small block systems require geogrid reinforcement and deep excavations even for short retaining wall projects. But Redi-Rock's massive weight and patented knob and groove technology allow you to create tall gravity walls when you have a tight job that backs up to the edge of a property line or house.
Use a block with a massive weight, not a massive footprint.
Case Study: Redi-Rock Gravity Wall Acts as Armour for Washed Out Gisborne Slope
When a particularly bad storm hit a shoreline road in Gisborne, monstrous waves slammed into the shoreline slope, which eroded away due to oversaturation and lack of foundational support.
The erosion washed away part of the slope and took a portion of the road with it. Finding a solution that fixed the erosion, kept the road open, and fit the project's three-month deadline without sacrificing strength was key.
View the Case Study
Project Spotlight: Upscale New Zealand Subdivision Chooses Redi-Rock for Expansion Plans
Ruarangi Villas is an upscale residential development currently under construction on Mt. Albert in Auckland, New Zealand. The site promises beautiful views and easy city access but sits on a severe slope thanks to the mountainous terrain.
Originally, the project used a different retaining wall system in its design. Then the developer was introduced to Redi-Rock. Read the entire project spotlight below.
View Project Spotlight
Three Reasons to Trust Duracrete for Your Next Infrastructure Retaining Wall
---
Simple Installation
Like giant Lego blocks, each Redi-Rock precast modular block has 0.5 square meters (5.75 square feet) of face, so installation goes faster than laying multiple smaller blocks.
Superior Aesthetics
Escape the stamped look of drycast blocks and please your customers with Redi-Rock's natural stone look. Duracrete offers the Ledgestone and Limestone faces which are created from durable, wetcast concrete and can be colored to blend in with any surroundings.
Safer Project Sites
Installing Redi-Rock provided by Duracrete means:
Reduced traffic management costs due to quicker installation
Less risk of injury to crew due to machine placement instead of manual labor
Less disruption to the residents, businesses, and other road users
"Using Redi-Rock over Gabion Basket Walls allowed for the project to be completed sooner, as well as reduce traffic management costs and risk of injuries to staff."
Ross Harper Construction Engineer - Fulton Hogan State Highway 15 Project