Industrial Precast
---
Your Source for Redi-Rock Retaining Walls in Northwest Arkansas
We're Industrial Precast, your one-stop shop for Redi-Rock retaining walls in Northwest AR. Whether you need a retaining wall to create space for a road or driveway, or protect a shoreline or stream bank, you need a retaining wall you can trust. Make your next project sturdy enough to stand the test of time and look good while doing it!
Get Pricing
About Industrial Precast
---
Since 2007, Industrial Precast has been providing Redi-Rock retaining walls in the Little Rock, Fayetteville, Fort Smith, Bentonville, and Hot Springs areas. We started producing Redi-Rock after seeing what Redi-Rock could do in our heavy construction business, Blake Construction. We knew we needed to make Redi-Rock available locally in Northwest Arkansas!
Max Blake Sales Manager Phone: 479-420-1676 Email: mblake@industrialprecast.com
Before building your next stormwater retaining wall in Northwest AR...
Imagine building a stormwater retaining wall with no maintenance that will last a lifetime. Contrast that with a natural stone wall in a stormwater application that requires re-stack the rocks after a storm. Or a railroad tie wall, which you'll be rebuilding when the wood deteriorates from the constant moisture.
Redi-Rock is a proven, precast modular block retaining wall system, created by engineers, for engineers. The Redi-Rock retaining wall system uses massive one ton blocks made of 4,000 PSI concrete. Redi-Rock's massive weight and patented knob and groove technology allow you to create tall gravity walls when you have a tight job that backs up to the edge of a property line.
Top 3 Reasons to Choose Industrial Precast for Your Next Retaining Wall
---
Engineering Resources
Engineering is the core of the Redi-Rock system. When you choose Industrial Precast for your next retaining wall project, you have access to all of the Redi-Rock design resources, including preliminary height guides, the Design Resource Manual, free wall analysis software for gravity walls. These tools make designing retaining walls in Northwest Arkansas easy!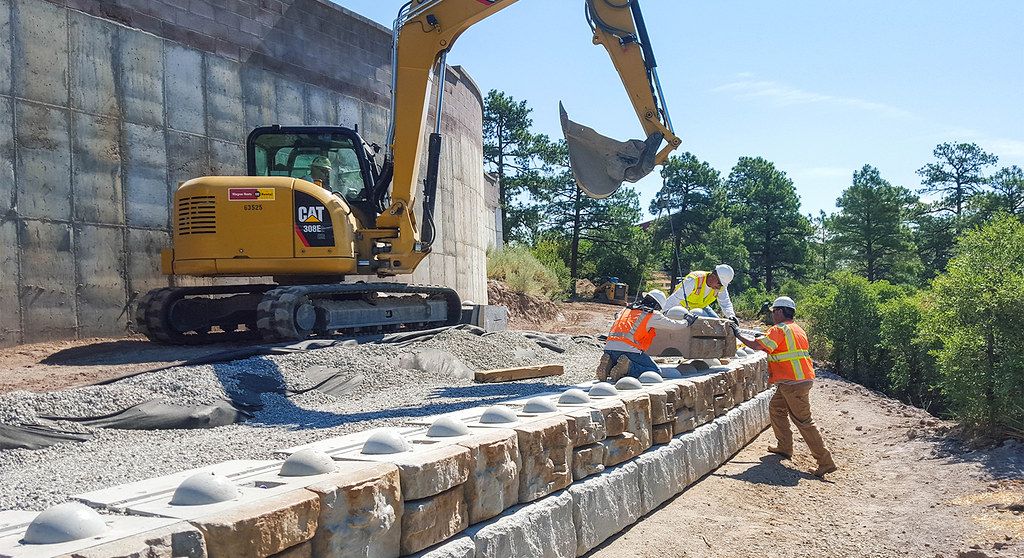 Ease of Installation
Like giant Lego blocks, each Redi-Rock precast modular block has 5.75 square feet of face, so installation goes faster than laying multiple smaller blocks. Better yet, the easy installation process doesn't involve heavy lifting that will strain your back because Redi-Rock is machine set. As we like to say, Redi-Rock is for strong minds and weak backs.
Zero Cost of Ownership
When you consider your retaining wall options in NW Arkansas, it's importance to think about the cost up front - as well as the cost down the road. With options like small block walls, natural stone walls, or railroad tie walls, there are regular maintenance issues to deal with. In contrast, your Redi-Rock wall has zero maintenance, making your long term cost of ownership zero.
Previous Projects from Industrial Precast in Northwest AR
---
20-Foot High Wall Makes Trail Through Wetland Possible
The city of Rogers, Arkansas needed a 20-foot high retaining wall to expand their existing bridge and incorporate the Razorback Greenway Trail, but excavation for geogrid would mean redoing the existing road. McClelland Engineering proposed using the Redi-Rock gravity system that has 9-inch setbacks to get the job done while leaving the roadbed intact.
Army Chooses Redi-Rock to Create Realistic Training Facilities at Fort Chaffee
Fort Chaffee in Fort Smith, Arkansas used Redi-Rock retaining and freestanding walls to create realistic training facilities for troops. Redi-Rock is a modular system, meaning that components can be reconfigured to match current training needs. See how the Army used Redi-Rock in this unique military training application here