Flood Walls Using Redi-Rock
---
The integrated system of wall solutions from Redi-Rock can solve an array of issues where water arises, including providing flood protection. Redi-Rock precast modular blocks (PMBs) can be mixed and matched to create the perfect freestanding, gravity, reinforced, or hybrid wall design to suit any site scenario with water.
Top 5 Reasons Redi-Rock is a Good Fit for Flood Walls
---
1. Durability & Longevity
Redi-Rock blocks are manufactured from structural-grade concrete mixes in accordance with ASTM C94 or ASTM C685, producing blocks that are resistant to freeze-thaw, deicing chemical exposure, and submerged conditions in both fresh and salt water.
2. Natural Stone Texture
The rugged stone relief of Redi-Rock blocks help them enhance the aesthetic appeal of walls, but it also helps to break up wave action and slow down the channel flow.
3. Massive Weight
The massive weight of the blocks, which range from 1,400 pounds (650 kilograms) to 4,840 pounds (2,190 kilograms), help them stand sturdy in water applications. The patented knob and groove technology locks them together like giant Lego blocks.
4. Non-corrosive Positive Connection Reinforcement
The Redi-Rock Positive Connection (PC) blocks have a weight-independent connection using a 12-inch (300-millimeter) wide strip of geogrid that wraps through the block. Because there are no metal fasteners or pins to corrode over time, the system is adept at handling water applications.
5. Ease of Installation
Redi-Rock blocks are machine set, so they speed up the installation process. Blocks arrive onsite ready to go. Having already met their compressive strength, they can even be set in water.
Project Spotlight: River Wyre Defence Bund & Flood Wall
What started as a single homeowner examining how to protect their property from the River Wyre flooding grew into an entire community working together to form a Flood Action Group and defend the entire village.
With the help of Floodsafe Projects and a civil engineer, Churchtown community officials and property owners created a design to protect the village that met the Environmental Agency's standards. The final plan covers 600 meters (1,970 feet) of flood defences, utilizing an earthen raised bund and a modular block wall.
The new flood infrastructure primarily protects three property owners, but the system also prevents water from reaching the major roadway, where previous flooding had impacted 58 properties. The raised bund with its clay core traverses through farmland, and the 70-meter (230 foot) long, 1.5 meter (5 foot) tall wall ties into the bund, providing continuous protection for a homeowner along the River Wyre.
The wall uses Redi-Rock Freestanding Hollow-Core blocks produced by Marshall's CPM. The blocks allowed for quick installation and reinforcement with steel and infilled concrete. With flood-safe gates and removable barriers, the property owner is able to maintain driveway access, as well as access down to the riverfront patio.
This project was recognized by Storm Water Solutions as a Top Project for 2019.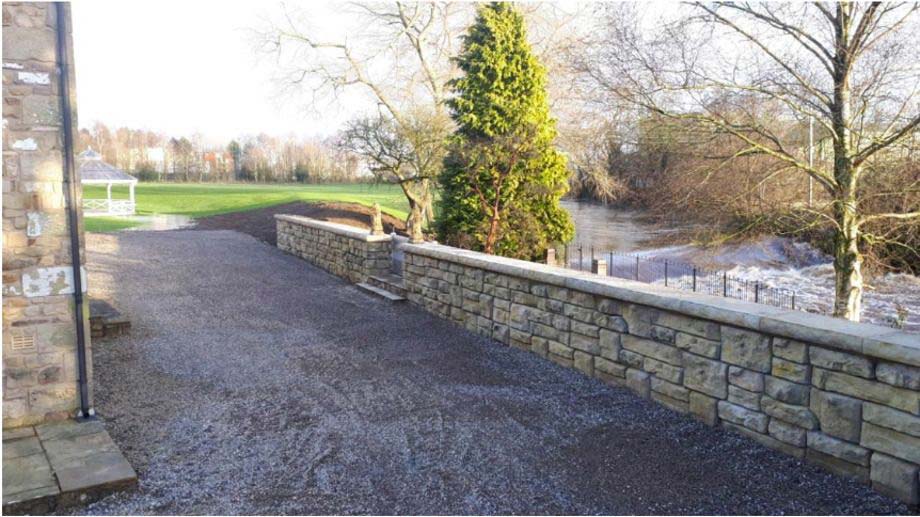 The 70-meter (230-foot) long wall ties into the raised earth bund to provide continuous protection from the flooding of the River Wyre.
Equipped with a flood gate for driveway access, Redi-Rock Freestanding Hollow-Core blocks provided an aesthetic solution for the flood wall.
Featured Product: Freestanding Hollow-Core Block
The Freestanding Hollow-Core block provides engineers, contractors, and property owners a magical tool to solve an array of wall challenges, including creating a concrete flood barrier. With convenient rebar grooves, the center cavity can be reinforced and filled with poured-in-place concrete. The cohesive structure provides an architecturally-strong, aesthetically-pleasing solution for flood control.
Learn More
How to Design a Flood Wall with Redi-Rock
---
Design Resource Manual
From the entire block library to typical construction details and preliminary height guides, the Design Resource Manual has all the tools to take your next flood control project from concept to completion.
Get the Manual
Redi-Rock Wall+ Software
Redi-Rock Wall+ Software is a robust tool to design and analyze the most complex geotechnical scenarios, including water behind and in front of your wall.
View the Software
Technical Support
When your project brings up a question that stumps you, or you're just looking for a little reassurance you're on the right path, the technical support team at Redi-Rock is available to help you troubleshoot. Don't hesitate to reach out!
Phone: +1 (866) 222-8400 ext. 33010
How to Construct a Flood Control Wall with Redi-Rock
---
Typical Flood Control Construction Detail
Sometimes, a concept of what's possible is all you need to get started down the right design path. Check out how you could use the Freestanding Hollow-Core block to build a flood wall on your next project.
Download Flood Control Detail
Water Stop Construction Detail
When using the Freestanding Hollow-Core block to construct a flood wall, there are multiple options to make your wall water tight. View the water stop construction details to see what options is best for your project.
Download Water Stop Details
More Construction Details
Curious how your design might change for a seawall? Redi-Rock offers an array of construction details for a variety of different scenarios. View all of the construction details to see the vast solutions with Redi-Rock.
See All Construction Details
Flood Wall Testing Report
We don't just want to provide you the blocks to get the job done. We want to provide you the information you need for peace of mind. Check out the testing report for a typical flood control wall to gain further insight into how to best construct your flood control wall.
Download the Report
Get the Installation Guide
Taking your project from initial concept to finished project is easy with Redi-Rock. Contractors around the world tout the ease of installation of Redi-Rock. Check out the step-by-step instructions in the Installation Guide to see how you could expedite your next retaining wall project.
Download the Guide
Watch How to Install Redi-Rock
If a picture is worth 1,000 words, then an instructional video might just be worth a million bucks. Watch the video to see how to installing Redi-Rock can be streamlined from start to finish -- even when water's involved!
Watch the Install Video
Case Studies Where Engineers Solve Flooding Issues with Redi-Rock
---
Detention Basin Weathers Floods from Hurricane Harvey
After the detention basin along Lumpkin Road weathered the flooding from Hurricane Harvey, Houston's flood control district started examining Redi-Rock solutions for other flood control projects. The wall also overcame many initial site challenges, including poor soil conditions and limited room for reinforcement.
Read the Case Study
Channel Walls Slow Water to Protect Neighborhood
The City of Lenexa, Kansas was in need of a solution to stabilize the banks of Brentwood Stream from further erosion and provide flood control. With many of the buildings and fences in the residential area built close to the edge of the banks, they needed a solution that didn't require the use of geogrid.
Read the Case Study
Natural Resources District Reduces Flooding and Revitalizes Trail
When the Lower Platte South Natural Resources District and the City of Lincoln, Nebraska, set out to control flooding along Antelope Creek, they had several objectives in mind. Taking homes and businesses out of the floodplain was a major goal, but preserving and improving a nearby bike path was also a priority.
Read the Case Study
Texas Family Protects Home from River Flooding
After a San Antonio area resident's house was flooded three times by the Guadalupe River, he knew it was time for a change. Looking for higher ground, he bought property several miles upstream and started making plans for a retaining wall. To protect his investment, the wall needed to perform, as well as look good.
Read the Case Study
County Chooses Redi-Rock for Emergency Flood Repair
During the severe floods of September 2013, the stream bank parallel to Lee Hill Road in Boulder County, Colorado, had seriously eroded, threatening the stability of the roadway. Heavy trucks were continuing to use the damaged road to deliver materials to other flood-damaged sites, so officials needed a fast and permanent solution.
Read the Case Study
Looking for More Examples?
Redi-Rock has a database of hundreds of case studies where engineers, contractors, and property owners turned to Redi-Rock to overcome their site challenges. View all of the case studies to see how Redi-Rock might help you on your next project.
Search All Case Studies