Your Southeast Michigan Source for Redi-Rock Retaining Walls
---
Looking for a retaining wall in the Ann Arbor, Flint, or Brighton area? We've got you covered! Redi-Wall has been the exclusive manufacturer of Redi-Rock retaining walls for most of Southeast Michigan since 2003!
Redi-Rock is the leading large block retaining wall system in North America, because it uses giant blocks that stack up like Legos to build tall gravity walls and even taller reinforced walls. Plus, these walls look great. We specialize in large commercial retaining walls, small residential walls, municipal retaining walls, and anything in between. We also have a network of experienced installers to ensure the quality and integrity of your wall.
Get Pricing
When you're ready to dig into the Redi-Rock solutions available for Southeast Michigan, Eric Taylor is the guy to talk to! He will be able to help you dig into your specific project needs and match up the Redi-Rock solution that will work best. Redi-Rock offers a complete product line in Southeast Michigan, from gravity retaining walls, to reinforced walls, to freestanding walls. We also have 3 textures available - Limestone, Cobblestone, and Ledgestone. Learn more about Redi-Rock in this video!
Our Southeast MI Location: Redi-Wall / Livingston Concrete
---
Phone: 810-632-3030 Ext. 3 - Ask for Eric
Address: Redi-Wall LLC Company 550 North Old US 23 Brighton, Michigan 48114
About: Livingston Concrete was founded in Brighton Michigan in the year 1988 and has been using Redi-Rock products since 2003. Over the years we have diversified our products but kept our commitment to quality and personal service. We have a very committed staff and drivers that offer friendly service at a competitive price.
We are a full service supplier of ready-mix concrete. We can design mixes, recommend contractors, supply colors, provide expertise and recommend information on proper finishing techniques. We service mainly the Southeast Michigan area with Gravity Walls and various other products. Check out some of our projects in Brighton, Flint, and Ann Arbor area!
Local Walls in the Ann Arbor, Flint, and Brighton Area
---
Monroe, Michigan Veterans Memorial Park Construction and Renovation
The construction of this Monroe, Michigan Veterans Memorial Park required US Army Corps involvement because it is located on the River Raisin, which falls under the jurisdiction of the Corps. See how this unique Southeast Michigan riverside park got a much needed facelift using Gravity Walls and the Redi-Rock Limestone Texture from Redi-Wall!
Read the Case Study
Caseville, Michigan Gravity Walls Protect Marina & Homes
When the small block retaining walls at the Caseville Resort and Marina were in danger of failing for a third time, the owner looked to Redi-Rock Gravity Retaining Walls as a permanent solution. See how the Redi-Wall team was able to work with the contractor to provide an aesthetically appealing wall, using the Cobblestone Texture, and an engineered solution for this thumb-area marina.
Read the Case Study
Redi-Rock Textures Available in the Ann Arbor, Flint, and Brighton Area
---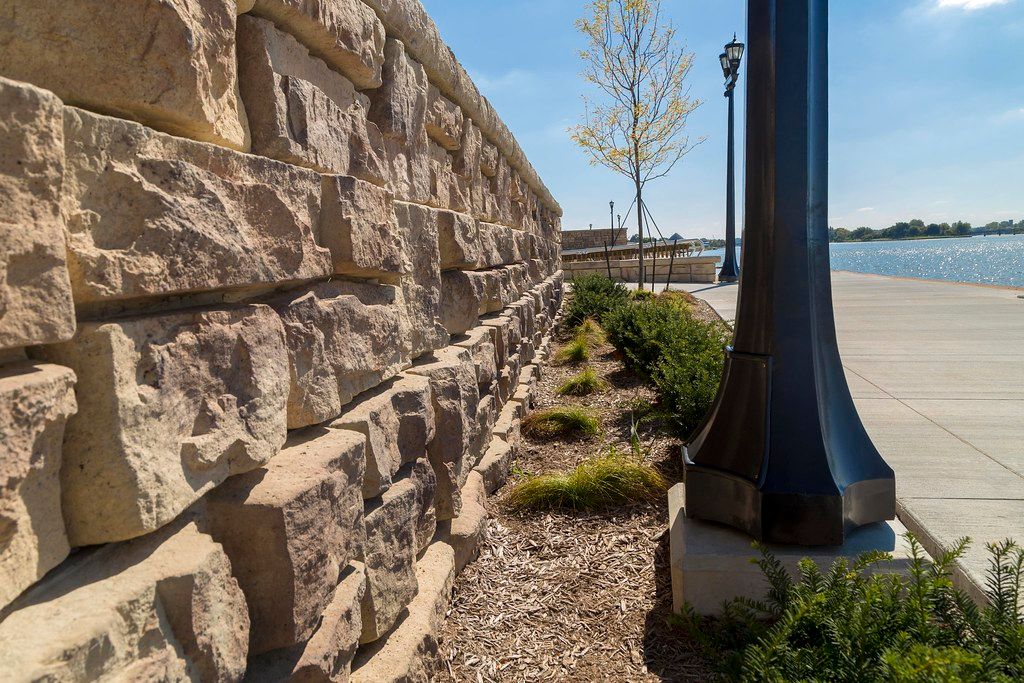 Ledgestone Texture
Ledgestone blocks give projects a random, stacked stone look. Because they're made using architectural-grade precast concrete, the level of detail in the texture is outstanding. Up to 115 square feet (10.5 square meters) of non-repeating texture is available.
Cobblestone Texture
Cobblestone blocks have a great stacked stone aesthetic. Each one-ton block features the appearance of six smaller blocks, making it a great look for projects that need a smaller-scale look. Up to 23 square feet (2 square meters) of non-repeating texture is available.
Limestone Texture
Limestone blocks have a natural split limestone texture that beautifully mimics real quarried stone. These large-scale block faces are perfect for commercial and residential projects or anything in between. Up to 23 square feet (2 square meters) of non-repeating texture is available.