Carolina Sunrock Picks Redi-Rock Over Cast-in-Place
---
51-Foot (15.5-meter) positive connection wall creates location for primary crusher at Kittrell Quarry
THE PROBLEM
Carolina Sunrock established expanding the capacity of their Kittrell Quarry as a priority for their business in their 2015 strategic plan. When they dove into the project, they soon realized the primary crusher would need to be upgraded and relocated; except, they didn't have an ideal location.
"The biggest challenge in the beginning was to find the right spot for the primary station," said Alex Andriichuk, engineer for Carolina Sunrock.
Typically, a crusher would be positioned next to the quarry wall, which would create the elevation change necessary for the heavy-duty mining equipment to dump materials into the hopper. At the Kittrell, North Carolina, location, however, there wasn't a clear face of the quarry wall that made sense with their existing infrastructure, so instead they decided to build a 50-foot (15.2-meter) tall cast-in-place retaining wall.
"We were going to build a monolithic wall," said Colin McAvoy, project manager and environmental coordinator for Carolina Sunrock. "Looking at that, the design of that, how much concrete we would need, how long it would take to do that, it was a big project, so we tried to explore some other options."
Exploration with Citadel Contractors, one of the vendors they approached to build the cast-in-place wall, introduced them to Redi-Rock. Citadel Contractor's parent company The Stevens Group has been manufacturing and selling Redi-Rock precast modular retaining wall blocks in Nova Scotia, Canada since 2002.
The more Carolina Sunrock explored Redi-Rock, the more it made sense beyond just solving this retaining wall problem, but also for their business. As a vertically integrated company that produces aggregates, hot mix asphalt, and ready mixed concrete materials, as well as provides a variety of contracting services, they opted to become a licensed manufacturer. By purchasing the steel forms and rubber molds to manufacture and install the blocks themselves, they could keep the quarry overhaul moving forward.
"It saved us a lot of time and a lot of money," said McAvoy. "We were able to pour everything right here onsite because we have our own concrete plant."
THE SOLUTION
As Carolina Sunrock squared away the logistics of manufacturing Redi-Rock blocks, they looked to Clint Hines, P.E., principal of J.C. Hines & Associates, to finalize a design for the retaining wall adjacent to their new 48 x 60 Kue-Ken Roberts jaw crusher that could process 1,100 tons (998 metric tons) of aggregate per hour.
CLICK HERE TO SEE A VISUAL BREAKDOWN OF THE PROJECT NUMBERS!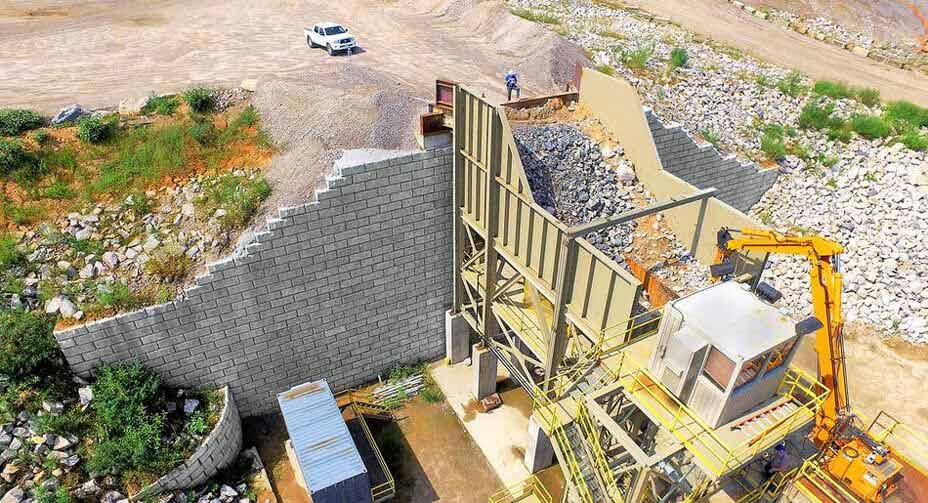 Not only did Carolina Sunrock need a 51-foot tall retaining wall, they also needed a wall that could support massive live loads.
Hines designed a 51-foot (15.5-meter) tall wall using Redi-Rock 28in (710mm) Positive Connection blocks, where a 12-inch (300-millimeter) wide strip of factory cut and certified geogrid wraps through a core slot in the block to create a reinforced earth zone behind the wall. The mechanically stabilized earth (MSE) zone extended 57 feet (17.4 meters) behind the tallest section of the wall using 24XT Mirafi geogrid in order to reach the extreme height, as well as to support the massive live loads of the mining operation.
The massive loads started with the weight of the dump slab Carolina Sunrock designed to support the impact load from the truck. The 22-foot (6.7-meter) wide reinforced concrete slab was 2-feet (0.6-meter) thick and included an integral bumper barrier for the dump truck to back into, indicating they were far enough back to dump into the hopper of the crusher.
The assumed surcharge load of the concrete slab was 300 pounds per square foot (1,465 kilograms per square meter), but that's small compared to the live load the wall would carry when a fully loaded Komatsu HD785-7 Off-Highway Truck -- a typical mining vehicle that at empty weighs 158,800 pounds (72,000 kilograms) -- backed onto the slab.
"You've got the payload, the weight of the truck, and then when the truck dumps, it sort of concentrates that split second right before the rocks start to roll out of the back of the truck you've really concentrated your live load on the slab. So, we modeled that at 4,000 pounds per square foot [(19,530 kilograms per square meter)]," said Hines.
In addition to considering the massive loads on the retaining wall, Hines also factored in the functionality of the batter angle of the wall next to the crusher. With Redi-Rock blocks, which are like giant Lego blocks where knobs on top of the blocks lock into grooves on the bottom of the blocks, Hines was able to specify a reduced knob size to decrease the batter angle. Hines called for 7.5-inch (190-millimeter) knobs, instead of the standard 10-inch (254-millimeter), to reduce the batter angle for the wall to 1 degree instead of 5 degrees. With 3/8-inch (9.5-millimeter) horizontal setback for every 18-inch (457-millimeter) course of blocks compared to 1 5/8 inches (41.3 millimeters), he was able to maintain the wall 2.73 feet (0.83 meters) from true vertical, ensuring the dump trucks could reach the hopper with their load.
While there were quite a few design challenges, one advantage at the Kittrell Quarry was the foundation soils. Carolina Sunrock's crew prepared the location for the wall, taking the site down to the existing rock of the quarry floor.
"This is a granite mining facility, so the foundation soils in this case was granite rock, which helped tremendously to mitigate any potential settlement issues," said Hines. "The applied bearing pressure of the vertical stress at the bottom of the wall was just over 12,000 pounds per square foot [(58,589 kilograms per square meter)], which is kind of low considering all the loads it was carrying and how tall the wall was."
With the design in hand and a month head start on production of the Limestone textured blocks, Carolina Sunrock got started with installation.
"ONCE WE GOT THE FIRST COUPLE LAYERS DONE, IT KIND OF WENT PRETTY EASY FROM THERE," SAID CAMPBELL. MCAVOY AGREED, "IT JUST GOT EASIER AND EASIER WITH EACH ROW, AND WE GOT FASTER AND FASTER." CHECK OUT THE REDI-ROCK INSTALLATION PAGE TO SEE FOR YOURSELF!
"It was actually our first installation job, and we all sat down and went over it as a group," said Jay Campbell, quarry manager for Carolina Sunrock. "[We] watched some videos and talked to some guys that had put it down before that helped us as far as getting started and showing us how it should be performed."
Campbell and his crew took their time establishing the base course on a 12-inch (300-millimeter) crushed stone leveling pad. While that first course would end up being embedded 4 courses below grade by the time they were finished, they knew it was really important to the overall integrity of the wall.
"Once we got the first couple layers done, it kind of went pretty easy from there," he continued. McAvoy agreed, "It just got easier and easier with each row, and we got faster and faster."
The total time frame for Carolina Sunrock to install the wall was about six weeks. For Andriichuk, it wasn't just the ability to save time with the Redi-Rock system compared to cast in place, but also about the labor savings.
"We eliminated completely the rebar work," he said. "You can [have] three workers there and the guy with the excavator, and they can pretty much build the wall." At most, Carolina Sunrock had six crew members working on the wall, while two additional staff members were pouring blocks.
With the speed of installation and the ability to use their own staff, Carolina Sunrock was able to keep the scope of their entire Kittrell Quarry upgrade on track. In addition to the new primary crusher, they created a complex, 1.4-mile (2.25-kilometer) long conveyor system to carry aggregate across their site, as well as completely relocated and renovated their secondary and finishing plants.
The 51-foot PC Wall was only a portion of Carolina Sunrock's total overhaul of their Kittrell Quarry.
Carolina Sunrock's Chief Financial Officer Gregg Bowler praised the team involved in making the Kittrell Quarry overhaul come together in the "Sunrock Dispatch" newsletter from Quarter 1 & 2, 2017 writing: "This team worked tirelessly over the past 10 months to design, configure and build this state of the art plant. Their dedication, ingenuity, and unique problem-solving ability allowed this project to come to life in a short amount of time."
THE OUTCOME
Carolina Sunrock didn't stop problem-solving with Redi-Rock after building the 51-foot (15.5-meter) PC wall capable of supporting the massive loads destined for their new primary crusher.
"We've built three other walls with the Redi-Rock product, and it's worked really well," said McAvoy. "Once we figured out how easy it was to build the wall, we saw that there was opportunity to use it in other areas of the plant where we really didn't plan on using it to begin with."
Carolina Sunrock has built a 12.5-foot (3.8-meter) tall circular structure to support a water tower, a wall surrounding the mouth of a 12-foot (3.7-meter) diameter surge tunnel, and a 380-foot (115.8-meter) long 22-foot (6.7-meter) tall wall, which sits behind all of their stacking conveyors for their aggregate.
Four Redi-Rock walls later, and they're still not done. Next up, Carolina Sunrock plans on building a wall with a Ledgestone face in front of their maintenance facility as a showcase wall for their company.
PROJECT DETAILS
Project: Carolina Sunrock 51-foot PC Wall #204 Location: Kittrell, North Carolina Owner/Installer: Carolina Sunrock Engineer: J.C. Hines & Associates, LLC Year: 2016
PRODUCTS FEATURED IN THIS CASE STUDY
---
Positive Connection Wall Blocks - Redi-Rock's revolutionary MSE system, where geogrid wraps through the block eliminating the chance of connection failures
Limestone Texture - Redi-Rock Limestone blocks provide a natural, stacked-stone aesthetic.