Memorial Fire Pit Amphitheater for Washington Camp
---
Amphitheater uses Redi-Rock walls and caps to create seating for fire pit and performance area
THE CHALLENGE
When 16-year-old Andrew S. Rosell's life was cut short in a traffic accident in 2007, his father Ed Rosell wanted to create a memorial for his son.
At the time of his death, Andrew had been working to become an Eagle Scout. As Ed Rosell struggled with his grief, a friend urged him to get involved with Scouting again as a way to give back to his community. Thus, an impressive project at Camp Cowles, a Boy Scout camp in Pend Oreille County near Spokane, Washington, was launched.
Rosell and his son first became involved in scouting when Andrew became a Tiger Scout in first grade, and Camp Cowles was a special place for both of them. A central feature of the 400-acre (162 hectare) Camp Cowles was the "fire bowl," an outdoor amphitheater overlooking Diamond Lake. The amphitheater was built out of rough logs in the 1920's or 1930's and had deteriorated over the years.
Prior to renovation, the fire bowl area had deteriorated and was unsafe for people with disabilities who wanted to attend ceremonies at the camp.
THE SOLUTION
Ed Rosell began brainstorming a renovation of the fire bowl amphitheater area as a memorial for his son, and heard about Redi-Rock as a possible solution.
Based on several other successful amphitheater projects around the country, Rosell and the camp were convinced that Redi-Rock was the best choice for the project. With the help of local Redi-Rock manufacturer Wilbert Precast and the camp, a creative new fire bowl design that would seat more than 300 people started to take shape.
Redi-Rock is an engineered, precast retaining wall system that utilizes massive blocks weighing over one ton each to create usable land. The Redi-Rock line of products is a complete system that includes a variety of columns, caps and other accessories that coordinate with the Redi-Rock retaining wall blocks to create a cohesive look. Amphitheaters are just one of the many applications for Redi-Rock walls!
Part of the design of the project included creating better access to the fire bowl and making it American's with Disabilities Act (ADA) accessible. "We have a lot of grandparents who come for ceremonies here, and the fire bowl has a lot safer access now," explained camp ranger Jack Graham. "The original amphitheater was built out of hand-carried rocks and logs over the years to make steps and seating. Now, people don't mind going out there at night because it's a lot safer."
The design of this project used nearly every product in the Redi-Rock arsenal. From retaining walls, to steps, to caps, to freestanding walls, and columns - this project had it all.
Redi-Rock Middle blocks were produced without the knob component so Redi-Rock caps could be placed on top of them to create the amphitheater seating.
To create the amphitheater, Wilbert Precast produced 220 Redi-Rock "middle blocks" without the interlocking knob component so that 220 Redi-Rock cap blocks could be placed directly atop to create benches. The staircase that ran through the middle of the amphitheater benches required 50 additional Redi-Rock step blocks.
Construction of the amphitheater began in late March/early April 2010, and needed to be complete by the time campers arrived in June.
Wilbert Precast's own crews installed the project over the course of about 45 days, which included several weather delays due to a wet, snowy spring. Because access to the fire bowl area was limited, Wilbert's crews had to stage all the blocks above the construction site and shuttle them down.
"We kind of built it like a pyramid," explained Rick Lindberg of Wilbert Precast. "The real challenge was the soil; we had to pull out a lot of organic material that wasn't good for compaction and bring in a lot of sand."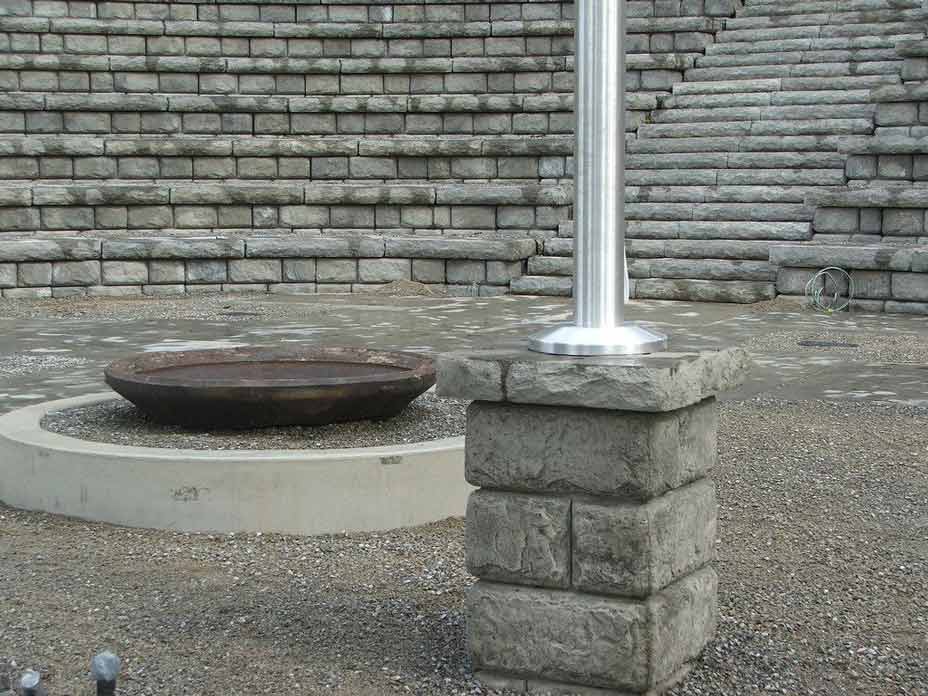 The camp used Redi-Rock retaining walls, caps, and steps to create a new amphitheater that is more accessible than the past, rustic amphitheater.
"Andrew would be very proud. This place meant a lot to him," Ed Rosell told the Spokane Spokesman-Review newspaper in 2010.
"It was just such a neat project to be involved in. We were proud to be able to help create this memorial," Lindberg of Wilbert Precast said. "The creative aspect of this project was phenomenal too. Taking something that's made to create retaining walls and using it to create an amphitheater was just fun."
Wilbert Precast earned an honorable mention for the project in the 2010 Creative Use of Precast awards sponsored by the National Precast Concrete Association. The project also was awarded "Innovative Application of the Year" in the annual Redi-Rock International Rocky Awards.
PROJECT DETAILS
Project: Andrew S. Rosell Memorial Fire Bowl #127 Customer: Camp Cowles Manufacturer: Wilbert Precast Installer: Wilbert Precast Location: Pend Oreille County, Washington Year Built: 2010
PRODUCTS FEATURED IN THIS CASE STUDY
---
Gravity Retaining Wall Blocks - Massive, one-ton Redi-Rock gravity blocks rely on the sheer mass of each block to hold back the earth.
Freestanding Blocks - Redi-Rock freestanding blocks are textured on both sides, giving above-grade walls an unbeatable, finished look for any project you design.
Caps - Redi-Rock cap blocks are the perfect way to finish a retaining wall, freestanding wall, or column.
Columns - Redi-Rock columns can coordinate with retaining walls or freestanding walls, and even fencing!
Cobblestone Texture - One of the beautiful face texture options available Redi-Rock blocks.