How to Build a Shopping Development Retaining Wall
---
Georgia developers choose Redi-Rock walls to create space on difficult site
THE CHALLENGE
The Sembler Company, known for shopping developments across the United States, was re-developing an outdated shopping center near the upscale Sandy Springs, Georgia, community. As part of the project, the former development was completely razed. In its place, a 345,000 square foot (32,052 square meter) redevelopment project was being built.
"This thing goes from 992 foot (302.4 meter) elevations where Target is located down to 940 foot (286.5 meter) elevations, a drop of 52 feet (15.8 meters)," Jeffrey Fuqua, president of Sembler, told the Sandy Springs Reporter in March of 2007. "Essentially there are four projects centered on the four level deck at different grades. It is one of the toughest sites we've ever worked on geographically."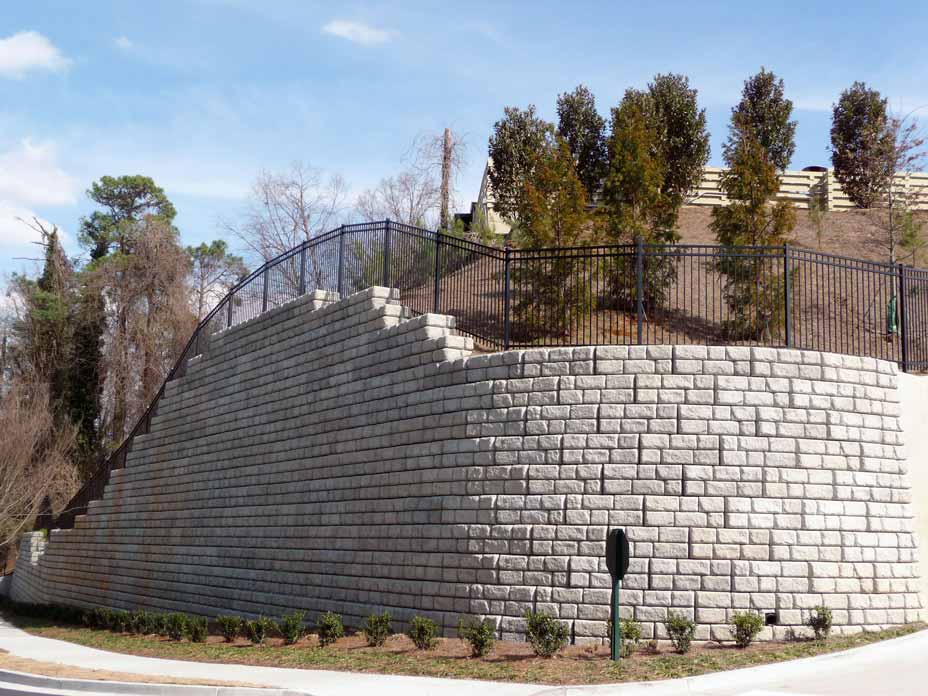 Redi-Rock was used on this redevelopment project to solve the challenge of a 52 foot (15.8 meter) elevation change across the property.
THE SOLUTION
Atlanta Redi-Rock manufacturer Piedmont Precast was building two Redi-Rock walls near the Prado to allow for lane expansion of the roadway. After seeing the Redi-Rock walls across the street, the general contractor, Balfour Beatty PLC, called Piedmont Precast to discuss an alternate to a cast-in-place wall on the lower side of the Prado. The wall needed to be 25 feet (7.6 meters) tall with a 2:1 slope on top and borings discovered the cut was full of rock. In spite of these difficult conditions, Soil Reinforcement Design, Inc. was able to design a Redi-Rock wall 26 feet (7.9 meters) tall at the highest point with only 6 feet (1.8 meters) of geogrid using Redi-Rock's reinforced retaining wall system. The wall utilized Redi-Rock's 28in (710mm) blocks in the Cobblestone texture.
The Redi-Rock Cobblestone textured blocks provided the engineered support required for this project along with beautiful aesthetics to enhance the look of the development.
THE OUTCOME
Redi-Rock proved to be a more cost effective solution than cast-in-place for the Prado development's needs. The wall had to be built entirely from the front of the site and was installed in about two weeks. The wall extends about 220 feet (67.1 meters), encompassing about 3,300 square feet (307 square meters).
PROJECT DETAILS
Project: The Prado Redevelopment #77 Owner: Sembler/Balfour Beatty Block Manufacturer: Piedmont Precast Engineer: Soil Reinforcement Design, Inc. Installer: MSE Site Solutions Location: Sandy Springs, Georgia Year Built: 2008
PRODUCTS FEATURED IN THIS CASE STUDY
---
Reinforced Retaining Wall Blocks - Build MSE retaining walls with the revolutionary Redi-Rock the Positive Connection (PC) System.
Cobblestone Texture Blocks - Redi-Rock Cobblestone blocks feature a great stacked stone aesthetic with the appearance of six smaller blocks.