Landscape Ideas for DOT Highway and Freeway Road Construction
---
Redi-Rock becomes focal point of Las Vegas freeway landscape
THE CHALLENGE
When a landscape project needs to look great but use no water at all, landscape architects have to get creative. That's exactly what happened when the landscape architects from C.F. Shuler, Inc. were hired by the Nevada DOT to design the landscaping of 80 acres (32 hectares) along five lineal miles (eight kilometers) of freeway in Las Vegas.
These curving Redi-Rock freestanding walls helped create a unique landscape that requires no water for this Las Vegas freeway.
THE SOLUTION
"As landscape architects, we try to design things that have a sense of place," explained Carol Shuler, L.A and principal of C.F. Shuler, Inc.
Shuler's Arizona design firm specializes in southwestern landscapes and focused this project's design on southern Paiute Native American basketry designs. "We kind of exploded the spiral basketry pattern and used it for the wall graphics along the freeway, and also incorporated it into the freestanding wall spirals in the intersection landscaping," Shuler explained.
NDOT is very conscious of water usage, and asked Shuler to design the project without any plants. Shuler knew she wanted to use earth graphics (placing different colored stones on the ground to create patterns) as part of the design, but she also wanted the landscape to be more three dimensional. She envisioned the decorative stone spirals being built of massive chunks of "gorgeous red sandstone" from a nearby canyon. "And that's what we originally wanted to use, until we saw how expensive it would be," Shuler explained.
Freestanding walls are topped with caps to create a finished look for the project.
Searching for a more cost-effective alternative, Shuler remembered an article she had seen in a trade magazine and began searching for large block precast retaining walls. "We chose Redi-Rock because the freestanding blocks allowed us to build the two-sided walls we were going for, and the textures and colors had a similar look to the red sandstone jumbo blocks we originally considered," Shuler said.
The walls Shuler designed ranged from 3 feet to 6 feet (.9 meters to 1.8 meters) tall, but with each intersection measuring about 3.5 acres (1.4 hectares), the landscape still needed more height to have the visual impact Shuler wanted. To accomplish this, she designed image panels made of layered wire fabrics. These panels followed the curves of the Redi-Rock walls to create images such as a giant tortoise and a prickly pear cactus.
"It took a lot of teamwork to figure out how to make it work with these tight radii. We did a lot of custom pours and made drain blocks so that water could go underneath the walls," said Frank Nunes of Jensen Precast.
Installation of this project was very challenging due to the tight radii and the design of each wall being different. The landscape architect's design required that no daylight be visible through the walls, which meant that the installer needed to saw cut the blocks. Jensen Precast was able to custom cast blocks to reduce the amount of cutting required on each block. This insert created blocks shaped like an "H" so that a smaller portion of each block needed to be cut by the installer.
"We were doing something weird with Redi-Rock, and it took some experimentation on the part of the installers," Shuler said. "They did a great job of making the walls look just right, so that you can drive all the way around every one of those walls and not see daylight."
THE OUTCOME
In total, the project required 11,500 square feet (1,068 square meters) of Redi-Rock freestanding walls in the Cobblestone texture, stained to match the native red sandstone. Redi-Rock caps were placed on top of the walls to complete the look.
This creative application showcased the versatility of Redi-Rock in a variety of applications. The project was honored as "Freestanding Wall of the Year" as part of the 2010 Redi-Rock International Rocky Awards.
"We're looking forward to designing something weird with Redi-Rock again in the future," Shuler said.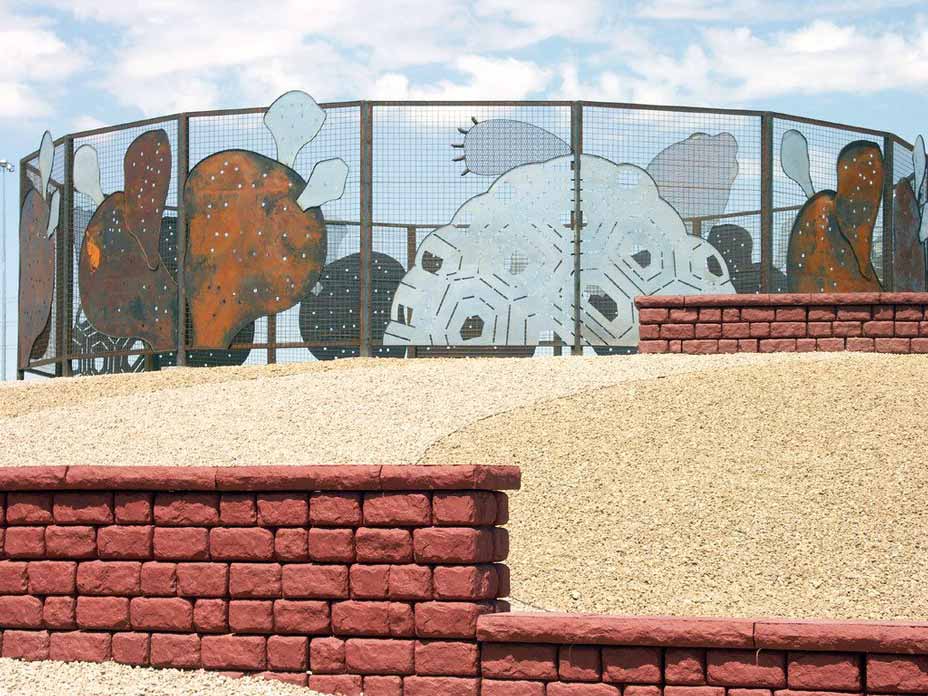 Designers chose Redi-Rock because it offered the versatility they needed to design tight radii and coordinate with graphic panels for the landscape.
PROJECT DETAILS
Project Name: Las Vegas NDOT Freeway Landscape #124 Customer: Nevada DOT Landscape Architect: C.F. Shuler, Inc. Manufacturer: Jensen Precast Installer: Valley Crest Landscape Location: Las Vegas, Nevada Year Built: 2010
PRODUCTS FEATURED IN THIS CASE STUDY
---
Freestanding Blocks - Redi-Rock freestanding blocks are textured on both sides, giving above-grade walls an unbeatable, finished look for any project you design.
Cap Blocks - Redi-Rock cap blocks are the perfect way to finish a retaining wall, freestanding wall, or column.
Cobblestone Texture Blocks - Redi-Rock Cobblestone blocks feature a great stacked stone aesthetic with the appearance of six smaller blocks.