Retaining Walls for Water Park
---
Gravity walls turn hilly property into tropical paradise
THE CHALLENGE
Over the last century, theme parks have become an escape from the hectic pace of everyday life, and visitors have come to expect park surroundings that transport them to another world. Creating this experience was exactly the challenge that faced Kanakuk Kamps in designing Kamp K-Kauai, a Hawaiian-themed family camp and water park in southern Missouri.
Kanakuk Kamps have built a solid reputation for providing quality Christian summer camps for more than 14,000 kids each year. Parents were so impressed with the Kanakuk Kamps program, that they began asking for a family camp so that the whole family could join in the fun. Kanakuk's tenth camp overall, Kamp K-Kauai is a place for families to escape for a week and grow in their relationships with each other.
With a construction budget of $14 million, Kamp K-Kauai's blueprints included waterslides, fountains, pools, a lazy river, a 300 foot (91.4 meter) zipline, an obstacle course and mini golf course spread over 35 acres (14.1 hectares) - 35 acres of rolling hills, that is. These hills created some unique challenges for Kanakuk Executive Director Doug Goodwin, who acted as contractor for the project.
In the early stages of Kamp K-Kauai's construction, a lazy river was being built along an edge of the property that required a retaining wall to run along its length for stabilization. Goodwin's first consideration was a poured in place concrete wall, but he wasn't satisfied with the plain look of a concrete wall and was daunted by the prospect and price of decorating the concrete wall to make it fit the Hawaiian theme of the park.
Fencing was added to the Redi-Rock retaining walls to provide safety area around the lazy river.
THE SOLUTION
One day, Goodwin was speaking to a camp colleague who suggested a unique retaining wall product called Redi-Rock that might work well for Kanakuk's water park. So Goodwin contacted his local Redi-Rock manufacturer, Steve Browne of SI Precast in Springfield, Missouri.
Browne was confident that Redi-Rock retaining wall products could provide the perfect solution for K-Kauai's retaining wall need. With natural rock textures that could be stained any color, Redi-Rock presented a versatile and aesthetic alternative to Goodwin's poured-in-place decorating dilemma.
"Redi-Rock was a lot easier than pouring and decorating a concrete wall. Being able to stain the wall was huge for us. The brown stain we used makes the wall blend in really well," Goodwin said.
"We really put our emphasis on making our walls as nice looking as possible," Brown explained.
In addition to fitting K-Kauai color-scheme and natural ambience, Redi-Rock also provided a cost-effective solution for the camp. Redi-Rock's massive gravity blocks weigh 1,500 to 2,500 pounds (680.4 to 1,134 kilograms) each and can be installed with a small excavator and a few laborers, cutting the time and labor costs that a poured in place wall would have entailed. Redi-Rock's massive block size also allows tall walls to be built without costly and time-consuming tie-backs.
The first Redi-Rock wall ran from one end of the park to the other at 16 feet (4.9 meters) high with 5 feet (1.5 meters) of bury, allowing the wall to be built without reinforcement.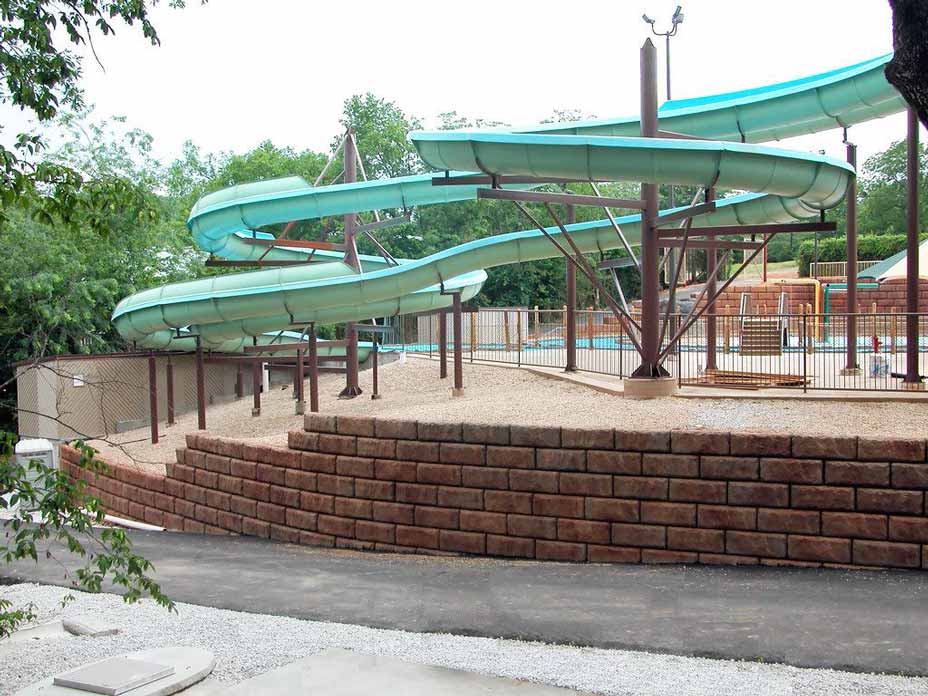 The hilly terrain where this water park was built made retaining walls throughout the property a necessity.
"Once we started construction, we realized that nearly every building on the property would need retaining walls," Goodwin said. "We were so pleased with the look and the durability of the first wall that we decided to use Redi-Rock throughout the park."
Upon completion, Kamp K Kauai contained 11,000 square feet (1022 square meters) of Redi-Rock retaining wall products. The natural Limestone texture of freestanding walls and steps create a natural yet neat ambience throughout the park. The dining hall features a 12-foot (3.6 meter) wide Redi-Rock stairway that was built by connecting Redi-Rock's standard 4 foot (1.2 meter) wide steps. The adaptability of Redi-Rock's product line allowed designers to be creative and make Kamp K-Kauai unique.
"Redi-Rock is so versatile. We were able to use it as steps, free-standing walls and retaining walls that help tie the park together," Goodwin said.
The whole park was completed in less than a year, and Redi-Rock's pre-engineered system played a role in the rapid construction. Design charts available online expedited the engineering process and allowed for quick construction.
"Redi-Rock is so easy to use-it's like an instant retaining wall," Goodwin said.
THE OUTCOME
Kamp K-Kauai opened in June of 2006. "I'd definitely recommend Redi-Rock. Kanakuk has already used it at two of our other camps," Goodwin said.
In the end, Redi-Rock retaining wall products provided Kamp K-Kauai with the natural look that tied the park together. This water park transports families to a tropical paradise for an adventurous week they won't soon forget.
The Redi-Rock Limestone texture was chosen for the retaining walls, which were stained to create the Hawaiian-themed look the park owners wanted.
PROJECT DETAILS
Project: Kanakuk Lazy River #162 Customer: Kanakuk Kamps Block Manufacturer: SI Precast Location: Branson, Missouri Year Built: 2006
PRODUCTS FEATURED IN THIS CASE STUDY
---
Gravity Retaining Wall Blocks - Massive, one-ton Redi-Rock gravity blocks rely on the sheer mass of each block to hold back the earth.
Freestanding Blocks - Redi-Rock freestanding blocks are textured on both sides, giving above-grade walls an unbeatable, finished look for any project you design.
Steps - Redi-Rock steps blocks look like natural stone steps, but have consistent dimensions so they're easy to walk on.
Limestone Texture - Redi-Rock Limestone blocks mimic the texture of natural split Limestone.