Natural Resources District Reduces Flooding in Lincoln and Revitalizes Popular Trail
---
Choosing Redi-Rock walls help flood reduction measures take 100 buildings out of the 100-year flood plain
THE CHALLENGE
When the Lower Platte South Natural Resources District (NRD) and the City of Lincoln, Nebraska set out to control flooding along Antelope Creek, they had several objectives in mind. Taking homes and businesses out of the floodplain was a major goal, but preserving and improving a nearby bike path was also a priority.
The NRD and the City of Lincoln partnered on the $2.5 million project, which included new retaining walls along Antelope Creek's west bank, additional box culverts under a bridge, a "detention cell" to hold water temporarily in a park, two flood-control berms, and a wider recreational trail.
THE SOLUTION
Finding the right solution for lining the creek channel was a challenge for project designers. Since there was no room to excavate for geogrid, the NRD and City initially considered using a poured-in-place wall and sheet piles.
However, a meeting with local Redi-Rock manufacturer and retailer Workman Precast led the NRD and City to an even better solution. By using massive, one-ton Redi-Rock blocks, engineers were able to design gravity retaining walls up to 16.5 feet (5 meters) tall to create a channel for Antelope Creek.
"We chose Redi-Rock as opposed to reinforced concrete due to the tight area we had to work with, the cost, and the new Ledgestone look," explained Don Day P.E. of Olsson Associates. "Aesthetically and with the location, we thought it would be a better product to use. It allowed us to widen the channel by having a near vertical wall there and it gave us more capacity to help reduce the flood plain."
Ed Ubben, project coordinator for the Lower Platte South NRD explained: "Once the owner saw Redi-Rock and the price, the decision was made to specify Redi-Rock with the Ledgestone face (no other options or equivalents)."
Several major benefits of the Redi-Rock system in storm channel applications include:
Minimized excavation: The massive size of each Redi-Rock block allows tall walls to be built with minimal excavation. This allows walls to be built closer to property lines, or in the case of this project, the gravity solution preserved space that could be used for widening the bike/pedestrian path.

Fast Installation: Redi-Rock blocks stack like giant Legos, making them quick and easy to install using an excavator and a small crew. Redi-Rock is a product for strong minds and weak backs.

Durable Components: Each block is made of wet cast, 4,000 PSI (27.6 MPa) air-entrained concrete, ensuring that it will stand the test of time.

Superior Aesthetics: Redi-Rock's Ledgestone texture creates walls that look like natural, random stone walls. Ledgestone blocks have the same dimensions and engineered capabilities as other Redi-Rock blocks, but with the look of natural, stacked ledgestone.
14,000 square feet (1300 square meters) of Redi-Rock retaining walls were used in this project, resulting in increased protection from floods.
THE OUTCOME
In total, the project utilized 14,000 square feet (1300 square meters) of Redi-Rock retaining walls along 2,000 lineal feet (609.6 meters) of Antelope Creek to create the [flood walls]/solutions/flood-walls-using-precast-modular-blocks. The NRD estimated that when all phases of the project were completed, the flood control measures took about 100 homes and businesses out of the 100-year floodplain.
Even though this was primarily a flood control project, it seems that local bikers and pedestrians are appreciative of the project's other benefit - the improved bike path. "It's almost impossible to stop people from using it," Ubben said.
The bike path has always been located within the floodplain, and there simply wasn't room to move the path to higher ground. "If there's a flood, the bike path will be under water," Day said. "There might be a little less use during a flood but this was a flood control project so the first priority was to get more capacity in the channel. The bike path was a secondary priority."
Trail users won't be the only ones benefiting from the new and improved trail segment. The local zoo's animals will, too. The walls help prevent erosion under the Lincoln Children's Zoo, plus they help keep vandals from throwing trash and other debris in the animal pens.
"Obviously, we're always concerned about security and our animals, especially along that perimeter," said John Chapo, the zoo's director.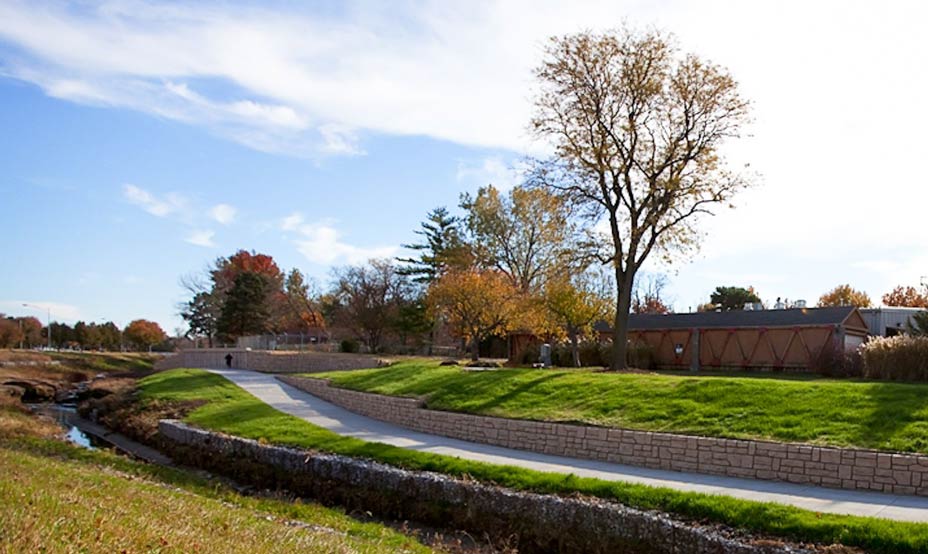 A secondary benefit of this flood plain project was an improved local bike path and erosion protection beneath the local Children's Zoo.
PROJECT DETAILS
Project: Upper Antelope Creek Flood Reduction #136 Owner: Lower Platte South Natural Resources District (NRD) and the City of Lincoln Manufacturer: Workman Precast Engineer: Don Day of Olsson Associates Installer: M.E. Collins (General Contractor); Leick Landscaping (Installer) Location: Lincoln, Nebraska Year Built: 2011-2012