Denver Area Retaining Walls
---
Looking for a retaining wall in the greater Denver area? We've got you covered! Signature Stone has been providing Redi-Rock products to Colorado since 2005!
Redi-Rock is the leading large block retaining wall system in North America, because it uses giant blocks that stack up like Legos to build tall gravity walls and even taller reinforced walls. Plus, these walls look great. We specialize in large commercial retaining walls, small residential walls, municipal retaining walls, and anything in between. We also have a network of experienced installers to ensure the quality and integrity of your wall.
Redi-Rock Retaining Walls from Signature Stone are Available in Boulder, Fort Collins, Greeley, Denver-Metro area, and the I-70 Corridor (Idaho Springs, Silverthorn, Breckenridge, Frisco) in Colorado.
Get Pricing
When you're ready to dig into the Redi-Rock solutions available for the greater Denver area and I-70 corridor, Seth Clark is the guy to talk to! He will be able to direct you to your perfect Redi-Rock solution. Redi-Rock offers a complete product line in Northern Colorado, from gravity retaining walls, to reinforced walls, to freestanding walls. We also have 3 textures available - Limestone, Cobblestone, and Ledgestone. Learn more about Redi-Rock in this video!
Our Exclusive Producer in Denver & the I-70 Corridor: Signature Stone
---
Phone: (970) 351-0270
Address: 211 30th St, Greeley, CO 80631
About: Signature Stone has been producing high quality manufactured stone products for over a decade. We are an authorized manufacturer of Redi-Rock and offer their full line of small and large retaining wall blocks, concrete retaining wall systems, gravity walls, and more.
Signature Stone also manufactures both split rail and concrete fences that provide amazing durability with no maintenance. We also offer an extensive selection of Stone Veneer products to choose from and can create custom styles for any project. You may also choose from Columns and Pillars, Landscape Stepping Stones and numerous supporting Architectural Elements that we manufacture as well.
Local Walls in the Denver Metro and I-70 Corridor Area
---
Redi-Rock Detention Pond Makes Hospital Expansion Possible
Learn how engineers used Redi-Rock retaining walls on this Denver area hospital expansion project to combine two detention ponds on the property in order to create desperately needed parking space in a very limited construction area.
Watch the Case Study
Ledgestone Walls Replace Failing Drycast Walls at Aspen Home
A family in Aspen, Colorado, chose Redi-Rock retaining walls to replace old, failing drycast walls along their driveway.
Read the Case Study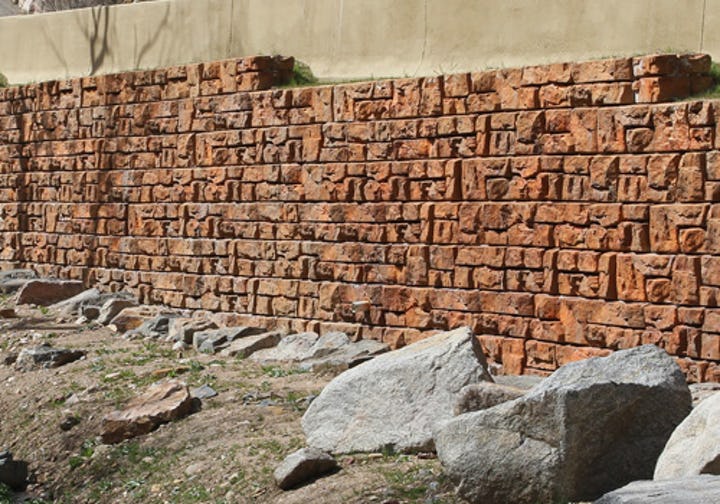 Flood Repair for Colorado Roads
In September 2013, floods ripped through Boulder County in Colorado, massively damaging the roads. See how engineers designed an emergency flood repair retaining wall solution using Redi-Rock walls..
Watch the Case Study
Redi-Rock Textures Available in the Denver Metro and I-70 Corridor Area
---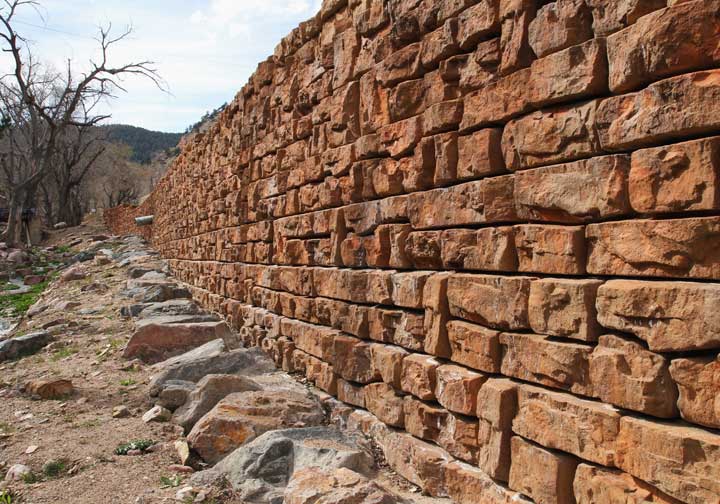 Ledgestone Texture
Ledgestone blocks give projects a random, stacked stone look. Because they're made using architectural-grade precast concrete, the level of detail in the texture is outstanding. Up to 115 square feet (10.5 square meters) of non-repeating texture is available.
Cobblestone Texture
Cobblestone blocks have a great stacked stone aesthetic. Each one-ton block features the appearance of six smaller blocks, making it a great look for projects that need a smaller-scale look. Up to 23 square feet (2 square meters) of non-repeating texture is available.
Limestone Texture
Limestone blocks have a natural split limestone texture that beautifully mimics real quarried stone. These large-scale block faces are perfect for commercial and residential projects or anything in between. Up to 23 square feet (2 square meters) of non-repeating texture is available.