Midwest Construction
---
Your Central Eastern South Dakota Source for Redi-Rock Retaining Walls
Looking for a retaining wall in the Pierre or Sioux Falls area? We've got you covered! Midwest Construction has been providing Redi-Rock products to South Dakota since 2010!
Get Pricing
About Midwest Construction
---
Our mission is to provide for our customers high quality, cost-effective construction services by maintaining the highest level of professionalism, integrity, honesty and fairness in our relationships with our suppliers, subcontractors, professional associates and customers.
Midwest Construction was started in August 1981 by Mark and Glennis Zarecky and incorporated in 1985. Midwest Construction has grown to be a leader in constructing quality buildings in the Pierre area. As a general construction firm we are involved in a variety of projects to include light industrial, commercial, multi-family and custom homes.
Redi-Rock Retaining Walls from Midwest Construction are Available in:
Pierre, South Dakota
Sioux Falls, South Dakota
Watertown, South Dakota
Our Central Eastern SD Location:
Phone: (605)-224-6345
Address: 1000 N Garfield. Pierre, SD 57501
Local Walls in the Pierre and Sioux Falls Area
---
Limestone Texture Gravity Wall in a Residential Neighborhood
Solutions for erosion on this waterfront home in the Central South Dakota area seemed impossible to find. These homeowners wanted to keep the beauty of their property but stop erosion issue, a Limestone texture retaining wall proved to be the perfect solution! Redi-Rock walls from Midwest construction are durable enough to be used in nearly any application including water applications where the blocks are fully submerged in the water!
Ledgestone Retaining Wall for Car Dealership
When this Car dealership in Midwest South Dakota wanted to increase their inventory they looked to Redi-Rock walls from Midwest Construction to increase make the most out of their lot. The Ledgestone Texture gravity wall with Caps proved worked great as well as gave a fresh new look to this property!
Hillsview Golf Course retaining wall creates space for seating
Hillsview officials chose Redi-Rock for its structural capabilities and aesthetic Ledgestone texture, which matches the high end finishes of the golf course. These retaining walls helped to create space for practical seating as well as give the landscape something extra at competitive prices!
Redi-Rock Textures Available in the Pierre and Sioux Falls Area
---
Ledgestone Texture
Ledgestone blocks give projects a random, stacked stone look. Because they're made using architectural-grade precast concrete, the level of detail in the texture is outstanding. Up to 115 square feet (10.5 square meters) of non-repeating texture is available.
Cobblestone Texture
Cobblestone blocks have a great stacked stone aesthetic. Each one-ton block features the appearance of six smaller blocks, making it a great look for projects that need a smaller-scale look. Up to 23 square feet (2 square meters) of non-repeating texture is available.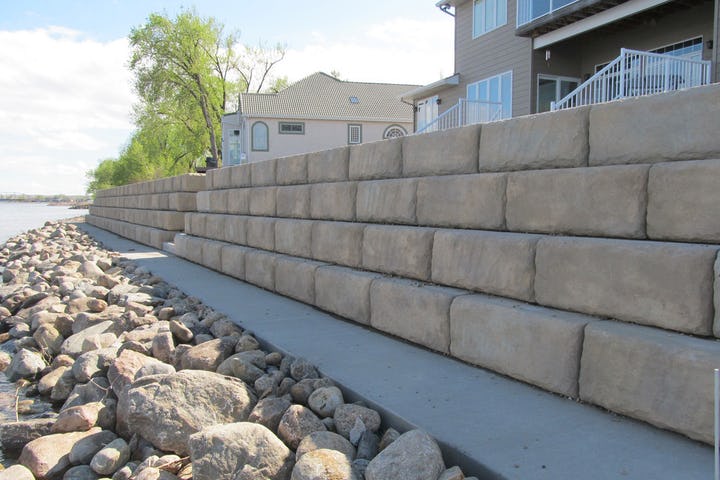 Limestone Texture
Limestone blocks have a natural split limestone texture that beautifully mimics real quarried stone. These large-scale block faces are perfect for commercial and residential projects or anything in between. Up to 23 square feet (2 square meters) of non-repeating texture is available.