Liberty Center Development Overcomes Site Logistical Challenges By Using Redi-Rock
---
Engineers, installers, and owners team up with Redi-Rock Structures of OKI
THE VISION
Steiner + Associates has been creating premier mixed-use developments in Ohio since 1999, and in 2013, they set their sights just north of Cincinnati to Liberty Township. They hoped to transform 64 acres near I-75 and West Chester into Liberty Center -- a mixed-use development bringing hotel, retail, office, and residential uses into 1.2 million square feet of finished space.
Despite their previous success with similar developments -- including Easton Town Center in Columbus and The Greene in Dayton -- the $350 million project wasn't without its challenges. Experience creating those two thriving complexes cast the vision for Liberty Center, but bringing that vision to reality required lots of logistical coordination.
"You're striving to build a city within a confined area but also trying to plan long term for the future when the baton is passed over to a property management team," said Mitch Fry, Construction Director with Steiner + Associates. "The relationship between the grading plan, site utilities, and structural plans were closely coordinated."
Civil engineering firm Bayer Becker was brought on board to help coordinate those logistics.
"Between development phasing and constructability, communication became critical between all parties involved...Utilities and long-term viability needed to be thought through entirely," said John Del Verne, Principal P.E. and Site Civil PM at Bayer Becker.
Early on in the process as Bayer Becker developed the site grading plan, it became evident that retaining walls would be needed. Initially, the thought was to specify the walls as standard reinforced concrete walls. But, these walls weren't just simple retaining walls -- they were complex walls that needed as much attention to detail and coordination as the rest of the Liberty Center project.
In order to transform the 64-acre site into the vision for Liberty Center, complex retaining walls would be necessary.
CONCEPT TO CONSTRUCTION
This is where Redi-Rock Structures of OKI stepped in to help revamp the original concept for the walls. As a value engineering idea, they suggested using both gravity and reinforced Redi-Rock precast modular block walls to provide viable solutions for the structural and civil challenges on site. In addition, Redi-Rock could also provide a more aesthetically pleasing solution with a natural stone textured finish for the walls.
Del Verne shared that "cost savings, ease of construction, and a simplified design process" were the main benefits of switching from a traditional reinforced concrete wall to Redi-Rock.
Fry agreed, adding "aesthetics played a big role in switching to Redi-Rock. Steiner is sensitive to aesthetics considering their customer base. Steiner values aesthetics and how the consumer feels as they shop and spend time in and around their facilities."
With almost every retaining wall on the project having a unique characteristic, site contractor Coppage Construction worked closely with the retaining wall installer Structures Inc. and the retaining wall design team at Civil Design Professionals (CDP). A few of the obstacles the team needed to overcome on the site included:
Bridge abutments
30-foot (9.1-meter) tall walls
Ohio Department of Transportation (ODOT) TL Rated barriers
back-to-back ramp walls
96-inch (2438-millimeter) storm pipe penetrations
earthen dams adjacent to walls
"Redi-Rock was the only system available to accommodate all of the specific site challenges that existed," said Dave Landwehr of Structures Inc.
The most difficult area of construction was located along the backside of the development, adjacent to the parking garage where two walls were to be constructed. These walls were back-to-back, over 25 feet (7.7 meters) tall, and supported a roadway accessing multiple levels of the garage. The Redi-Rock Positive Connection (PC) System was utilized in the design of these walls to support the height and loading surcharge. Barrier walls sat atop each retaining wall, while a poured in place bridge deck spanned the parking garage to the Redi-Rock walls.
In addition to the loading and geometrical challenges, the barrier walls required an ODOT TL rating sufficient enough to handle the impact of a vehicular crash. To meet this demand, Redi-Rock Structures of OKI created custom, freestanding Redi-Rock blocks that allowed rebar and concrete to connect and reinforce multiple freestanding courses to a moment-slab below grade.
Another challenge of these two walls was to separate them from an adjacent retention pond. An impervious (earthen dam) stop was designed to confine storm water to the retention area and not allow water to penetrate the ramp structure.
Additionally, multiple utilities such as storm structures and electric conduit for light posts were installed between the two ramp walls, which was no easy task with the 12-inch (300-millimeter) wide geogrid strips for the PC blocks, as well as the roadway grid.
CDP provided construction details to show the relationship between the Redi-Rock wall, storm structures, electric conduit, roadway grid and the Redi-Rock PC grid. These details allowed the installation coordination between Coppage Construction and Structures Inc. to run seamlessly.
During the course of construction, over 20,000 square feet (1,860 square meters) of Redi-Rock wall was installed on the project. According to Landwehr, "Structures Inc. was still able to install 800 to 1,000 square feet (75 to 93 square meters) of wall per day," which is an astonishing rate given all of the challenges and demands of the project.
"Using the Redi-Rock value engineered option created time savings and reduced significant costs for the owner when it was compared to the reinforced concrete wall; it was an absolute win-win for the project," said Tim L. Turton, Vice President/COO with Coppage Construction.
The back-to-back ramp walls of the parking garage were constructed with Redi-Rock Positive Connection blocks and topped with a custom barrier solution to meet ODOT standards provided by Redi-Rock Structures of OKI.
THE LASTING OUTCOME
The team of professionals involved in bringing the Liberty Center development to fruition continue to celebrate the Redi-Rock solution beyond the grand opening of the facility in 2015.
"One of the best decisions Steiner + Associates made was to redesign the retaining walls with the Redi-Rock and the Limestone texture. Gray concrete would not have given the property the look it deserves. The Redi-Rock aesthetics helped tie the existing buildings and restaurants together," said Marshall McVey, Director of Operations for Bayer Properties, the current property management firm for Liberty Center.
In addition to an end result everyone was pleased with, the working relationships developed with Redi-Rock Structures of OKI during the Liberty Center project have allowed the other professionals to continue to solve technical retaining wall challenges. Landwehr and his crew at Structures Inc. have continued to install Redi-Rock on projects, some reaching 30,000 square feet (2,790 square meters). Steiner + Associates has become a repeat Redi-Rock customer, and Bayer Becker has been specifying Redi-Rock for retaining walls as part of their civil design services.
"Customers realize 'walls that are more than just a line on a plan,' is more than a slogan when you work with the Redi-Rock Structures team! We strive to help our customers from concept to completion, building many lasting relationships along the way," said Kenny Swanson, Director of Sales and Business Development for Redi-Rock Structures of OKI.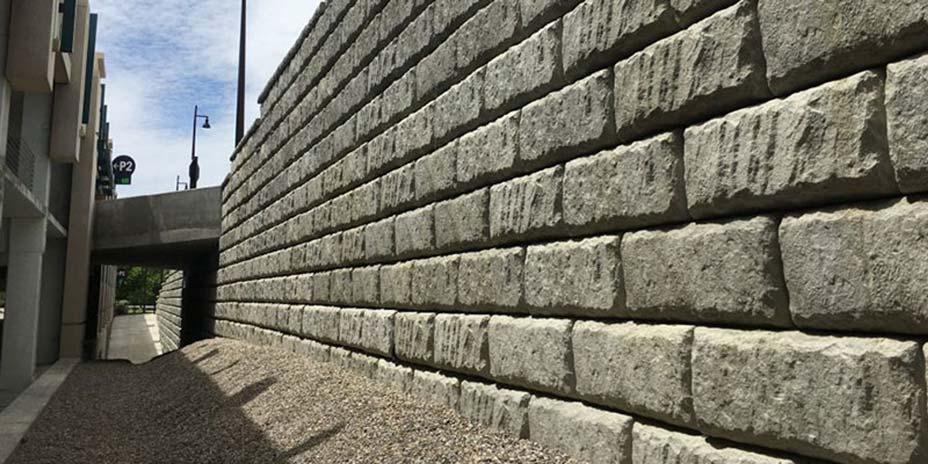 The Limestone finish of the walls at Liberty Center tied the overall aesthetics of the development together, but the Redi-Rock blocks also helped meet the structural demands of the project like supporting a cast-in-place bridge from the parking garage to the access ramp.
PROJECT DETAILS
Project: Liberty Center Mixed-Use Development #213 Owner: Steiner + Associates Contractor: Hoar Construction Civil Engineer: Bayer Becker Engineering Site Contractor: Coppage Construction Retaining Wall Design Engineer: Civil Design Professionals (CDP) Wall Installer: Structures Inc. Manufacturer: Redi-Rock Structures of OKI Location: Liberty Township, Ohio Year: 2015
PRODUCTS FEATURED IN THIS CASE STUDY
---
Gravity Retaining Wall Blocks - Massive, one-ton Redi-Rock gravity blocks rely on the sheer mass of each block to hold back the earth.
Reinforced Retaining Wall Blocks - Build MSE retaining walls with the revolutionary Redi-Rock Positive Connection (PC) blocks.
Freestanding Blocks - Redi-Rock freestanding blocks are textured on both sides, giving above-grade walls an unbeatable, finished look for any project you design.
Redi-Rock Accessories - Steps, Caps, and Columns coordinate with Redi-Rock retaining wall products to give your project a cohesive look.
Limestone Blocks - Redi-Rock Limestone blocks mimic the texture of natural split Limestone.