Tall Reinforced Walls Make Road Construction Possible for Park
---
Extensive park system chooses Redi-Rock walls across mulitple phases of construction
THE CHALLENGE
Creating a 21-mile (33.8 kilometers) long park system that encompasses more than 3,800 acres (1538 hectares) is no small task. But that's just what 21st Century Parks set out to do in 2010. The Parklands is an extensive new park system in the Louisville, Kentucky area that will include four major parks linked by a park drive, a world class urban trail system and a remarkable water trail, all tracing Floyds Fork, a classic Kentucky stream.
Constructing the parks and infrastructure required retaining wall solutions that would look great in a natural setting-and be flexible enough to create walls throughout the diverse 21 mile (33.8 kilometers) long park corridor. Walls reaching heights up to 41 feet (12.5 meters) tall were required at the Parklands, posing a considerable challenge for designers and installers.
This 41-foot (12.5-meter) Redi-Rock PC System wall made it possible for engineers to design a roadway as well as a pedestrian path that passed underneath.
THE SOLUTION: PHASE 1
For a solution, the Parklands turned to local Redi-Rock retailer, Redi-Rock of Kentuckiana. "It was chosen for a couple reasons," explained Joe Daley, Architect and Project Manager for 21st Century Parks. "One, was the aesthetics; this is a park project, not a highway project. It had to fit in with the stone and other materials being used in the park and trying to match the look we wanted. That was prime. Also the cost and the time frame were big considerations. We were under a fairly tight timeframe to get it built and this product lent itself to being put up fairly quickly."
Other options were considered before settling on Redi-Rock, Daly added. "Some of the other MSE walls didn't quite meet the requirements we had for aesthetics or construction, especially with the heights and soil conditions we have."
The Redi-Rock Ledgestone texture created a rugged, random aesthetic the park needed for the first phase of the project on the northern end of the park. Plus, Redi-Rock gave designers the flexibility to take advantage of the economy of the gravity system where possible and the strength of the reinforced Positive Connection (PC) System where necessary.
"With the wall heights that were proposed on site, a gravity structure was simply not feasible for the entire wall and we needed to look at reinforcement," explained Curt Derichs, P.E. of Civil Design Professionals who designed phase 1 of the project. "We thought the Redi-Rock PC System would save on geogrid and help the connection issue that would exist with other systems."
The Redi-Rock PC System:
Utilizes a corrosion-free reinforcement system without special connection components
Increases wall height with reduced geosynthetic reinforcement requirements
Provides superior seismic performance over other geosynthetic reinforced wall systems
Offers the incomparable durability of "wet cast", air-entrained concrete
Redi-Rock gravity and PC blocks combined seamlessly to create an efficient, custom solution for the park. The first phase of this project included a total of four Redi-Rock walls encompassing just over 7,000 square feet (650 square meters). The tallest wall stood 13.5 feet (4.1 meters) tall with an additional 60 inches (1.5 meters) maximum of exposed freestanding blocks on top of the retaining wall.
These walls were installed in just 6 weeks. "Compared to typical MSE walls we've installed for interstates, there's less labor involved with Redi-Rock. It certainly is easy to install," explained the foreman at MAC Construction who performed the installation.
"To save on backfill materials and geogrid we decided to make the wall a gravity wall for all sections possible. I did not have any issues with transitioning the wall from a reinforced section to a gravity section. For tall walls where the opportunity exists and other systems add layers of geogrid to meet connection capacity, I would recommend the Redi-Rock Positive Connection block in the future," Derichs said.
THE SOLUTION: BECKLEY CREEK / EGG LAWN I-64 ACCESS WALL
This phase of the Parklands project included creating an overpass for Interstate 64, the main corridor between Louisville and Lexington. Completing this overpass project was key in providing access throughout the park system. To keep the stone in place underneath the overpass, the project required a 1200 square feet (111.5 square meters) headwall.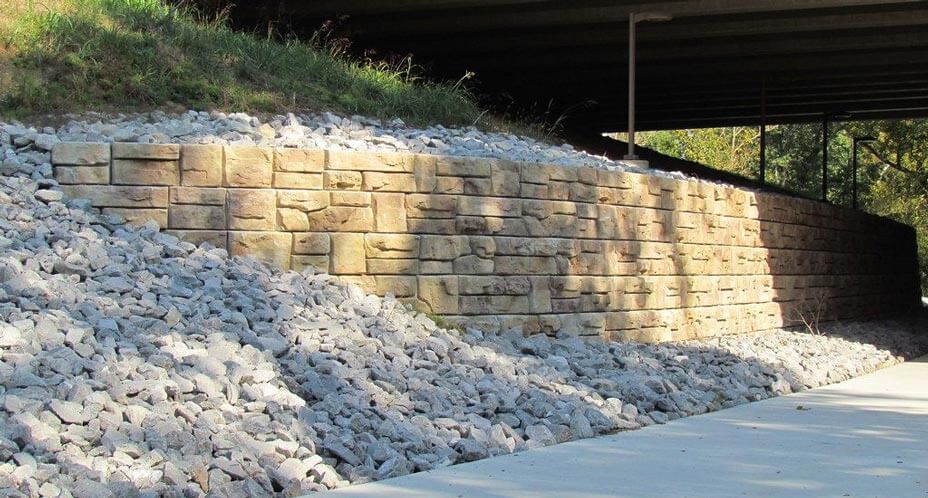 Ledgestone texture gravity walls stabilize this overpass.
This project hit on two strong points of the Redi-Rock system: gravity design and superior aesthetics.
"We went with Redi-Rock because of the footprint that was needed to put the walls in," explained Burleigh Law, senior project engineer with HNTB Corporation. Law was the structural lead for this phase of the Parklands of Floyds Fork project, which also included the development of the bridge concepts, their final design, and implementation through construction. "With this system, there were no straps that needed to go in so we were minimizing the excavation and the backfill that needed to go in there. That was a huge advantage for the wall system."
The Redi-Rock Gravity System has the ability to build tall walls without requiring geogrid or tiebacks in many applications. This makes it possible to build close to property lines and existing infrastructure, minimizing excavation and installation costs.
Each 41in (1030mm) gravity block weighs 2,294 lbs (1040 kilograms), as much as a Budweiser Clydesdale. Redi-Rock blocks utilize a knob and groove technology, which means that the entire retaining wall structure is interlocked.
Aesthetics were also important for the Parklands, since this is a park setting and a popular bike path at the base of the wall. "One of the main reasons we went with Redi-Rock was because of the Ledgestone series. From an architectural and aesthetic standpoint, it blended well with the park setting," he said.
The Redi-Rock Ledgestone texture features natural stone texture and coloring with 115 square feet (10.7 square meters) of non-repeating texture.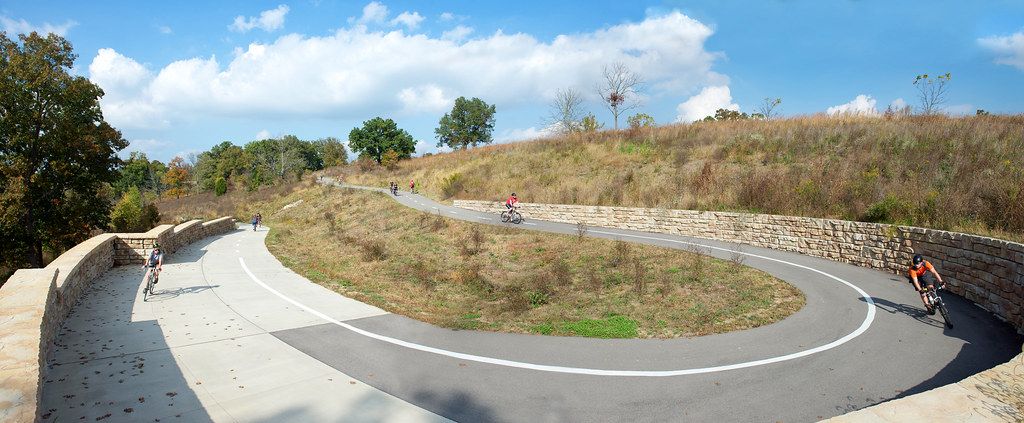 Redi-Rock Ledgestone walls line the park's bike path.
Another unique aspect of this phase was a nearby gravity wall for the "Louisville Loop" portion of the park's bike path. This portion of the bike path required a switchback, and the Redi-Rock Ledgestone wall was located at the outside of the curve. The wall included retaining wall blocks topped with freestanding blocks and caps.
"The contractor really complimented the wall system and how easy it was to put in," Law said. "From a constructability perspective, there were no issues. Ease of installation was key."
THE SOLUTION: PHASE 3A
The next retaining wall phase of the Parklands project required 3 separate walls, totaling 21,000 square feet (1,951 square meters) of Redi-Rock retaining walls to handle the significant grade changes on site. Clint Hines, Principal of JC Hines & Associates LLC designed phase 3A of the Parklands project, including the 41 foot (12.5 meter) tall Positive Connection system wall that was completed in January 2013, making it the tallest Redi-Rock PC wall in the world to date at the time.
"The high efficiency of the PC System really made it possible to design tiered walls with those loads at that height," said Hines. "It would be hard to make it work with anything else."
Designers chose Redi-Rock Limestone texture blocks for this phase to mimic the look of the existing block walls at Tyler Park in an historic part of downtown Louisville. "I think everyone is really happy with the way it looks," Daley said.
Limestone texture walls gave this massive wall an aesthetic finish.
"Some unique design challenges involved this phase of the project," explained Hines. Some of those challenges included:
TALL back to back walls: "Wall #1 was 41 feet (12.5 meters) tall and is backed up with a back to back retaining wall structure (wall #2 and #3). So we had a situation with the geogrid reinforced MSE wall with geogrid that actually overlapped. We accommodated the geogrid overlap by offsetting the starting elevations between wall #3 and wall #1."

Soft soils: "Almost 21,000 tons (19,050 metric tons) of rock was installed behind this wall," explained Irvin Vittitow, Co-owner and General Manager at Redi-Rock of Kentuckiana.

Vertical wall face: "We had a vertical wall face that we had to accommodate which meant that we had to use the smaller knobs on the blocks in designing the Redi-Rock walls," Hines explained.

Large pipe penetrations that went through the wall structure: "We accommodated the 48 inch (1.2 meters) diameter and 36 inch (0.9 meter) diameter pipes with cast in place concrete headwalls that incorporated slip joints that went all the way to the top of the wall to minimize any potential detriment to the wall through differential settlement," Hines said.

Aesthetic transitions: We had to make sure the walls transitioned properly with all the other design elements," Hines explained. "There's an underpass tunnel and other SRW walls that abut the Redi-Rock walls. Making sure that we provided the proper termination and finish between those structures was important. Redi-Rock has some advantages in that there are a number of coordinated products within the product line that allow you to make those kind of terminations without having to do a lot of field fabrication."
This project was the co-recipient of the 2013 Rocky Award for "Commercial Wall of the Year" from Redi-Rock International. The Rocky Awards are an annual honor recognizing the best Redi-Rock projects completed each year across the world.
The Parklands design was also honored with:
The 2010 "Place Maker" award by the Foundation for Landscape Studies
The "Honor Award in Analysis and Planning" by the American Society of Landscape Architects
"The Merit Award" by the National Park Service
PROJECT DETAILS
Project: Parklands at Floyds Fork #153 Customer: 21st Century Parks Project Specifying Architects: Wallace, Roberts & Todd, Philadelphia, Pennsylvania and Bravura Architects, Louisville, Kentucky Specifying Engineers: HNTB, Indianapolis, Indiana and QK4, Louisville, Kentucky Retaining Wall Engineers: Civil Design Professionals and JC Hines & Associates Manufacturer: Redi-Rock of Kentuckiana Installer: (Phase 1) MAC Construction, (Phase 3A) Redi-Rock of Kentuckiana Location: Louisville, Kentucky Years Built: 2010-2012
PRODUCTS FEATURED IN THIS CASE STUDY
---
Gravity Retaining Wall Blocks - Massive, one-ton Redi-Rock gravity blocks rely on the sheer mass of each block to hold back the earth.
Reinforced Retaining Wall Blocks - Build MSE retaining walls with the revolutionary Redi-Rock Positive Connection (PC) blocks.
Freestanding Blocks - Redi-Rock freestanding blocks are textured on both sides, giving above-grade walls an unbeatable, finished look for any project you design.
Redi-Rock Accessories - Steps, Caps, and Columns coordinate with Redi-Rock retaining wall products to give your project a cohesive look.
Ledgestone Blocks - Redi-Rock Ledgestone blocks give projects a random, stacked stone look.
Limestone Blocks - Redi-Rock Limestone blocks mimic the texture of natural split Limestone.
Case Study Translations: