University Creates Space for New Housing with Redi-Rock Retaining Walls
---
Worcester State University uses gravity and reinforced retaining walls to create buildable space on university campus
THE CHALLENGE
Worcester State University started as a teacher-training school in 1874, then transitioned to a liberal arts and sciences school in 1963. In 2010, it became recognized as a state university. As the university has grown, it has also acquired more and more students, creating a struggle to find space for additional housing.
"Worcester State University, along with the rest of Worcester, is nothing but hills," said Casey Scavone, of Redi-Rock Walls of New England, who supplied the blocks for this project. "It's fantastic for retaining walls."
Worcester State University chose chose Redi-Rock in part due to aesthetics-the Ledgestone textured wall beautifully complements a high-traffic area.
THE SOLUTION
WSU chose Redi-Rock retaining walls to expand the buildable area for a new student union and dining commons overlooking the sports fields.
Redi-Rock is a precast segmental retaining wall system known for building tall gravity walls, and even taller reinforced walls. These massive blocks weigh about one ton each and stack up like giant Lego blocks using an excavator.
The site included a moderate slope and global stability issues, so Eric Merluzzi, P.E., had to incorporate geogrid reinforcement into the lower wall, but was able to optimize the design by using the gravity system for the top tier of the wall.
The project also incorporated many curving walls, which Merluzzi said were simple to achieve because of the tapered block shape. "There's no cutting, no trimming-the blocks fit nice and neat...it works well."
Aesthetics were also very important to the university. Thousands of students and visitors will view the wall each year, due to its close proximity to Coughlin Field, the main athletic field on campus.
"They wanted something that looked natural and something that would really stick out, so New England Ledgestone was a great fit," said Scavone.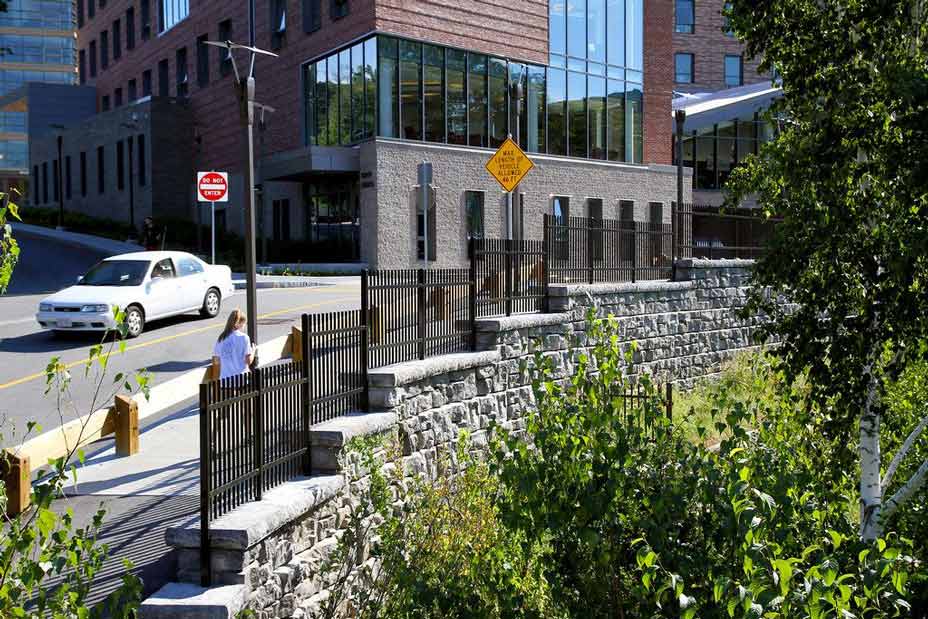 The wall was finished with Redi-Rock freestanding blocks which have texture on two to three sides, then topped off with Redi-Rock cap blocks.
THE INSTALLATION
"The biggest challenge here was the winter conditions," said Matt Guigli of Ernest Guigli & Sons, Inc. "We had to use a series of ground heaters to keep the ground thawed out overnight, because ambient temperatures at night were dropping well below freezing, even during the day. As soon as that soil freezes behind the wall, it's no longer suitable for use, so we either had to remove any soil that was frozen, or keep it in a thawed state."
Even with those issues, the Redi-Rock blocks installed quickly. Using three pieces of machinery and an installation staff averaging 6-8 people daily, the walls were installed over a three-month period.
"Personally we would prefer to install a Redi-Rock wall due to the size of the block," Guigli said. "There's more machine work involved, they go quicker, and I think in a given day you can install more square footage as compared to a smaller, labor intensive block."
The tiered retaining wall will be seen by thousands of people each year due to it's close proximity to Coughlin Athletics Field.
THE OUTCOME
The final block tally for this project was 1,200 blocks. The majority of the blocks were retaining blocks, though the wall was finished with freestanding blocks with textures on two and three sides, and with caps, to ensure that there was no unfinished concrete marring the appearance.
"This was a great project for us, in all areas, especially exposure," said Scavone. "With all the people that are going to pass this area over the years here at WSU, it's a fantastic project. The install was beautiful-everything came out perfect."
PROJECT DETAILS
Project: Worcester State University #175 Engineer: Eric Merluzzi, P.E. Owner: Worcester State University Installer: Ernest Guigli & Sons, Inc. Manufacturer: Redi-Rock Walls of New England Location: Worcester, MA Year Built: 2013
PRODUCTS FEATURED IN THIS CASE STUDY
---
Gravity Retaining Wall Blocks - Massive, one-ton Redi-Rock gravity blocks rely on the sheer mass of each block to hold back the earth.
Reinforced Retaining Wall Blocks - Build reinforced retaining walls with the revolutionary Redi-Rock the Positive Connection (PC) System.
Freestanding Blocks - Redi-Rock freestanding blocks are textured on both sides, giving above-grade walls an unbeatable, finished look for any project you design.
Cap Blocks - Redi-Rock cap blocks are placed on top of retaining or freestanding walls to give projects a finished look.
Ledgestone Texture - Redi-Rock Ledgestone blocks give projects a random, stacked stone look.